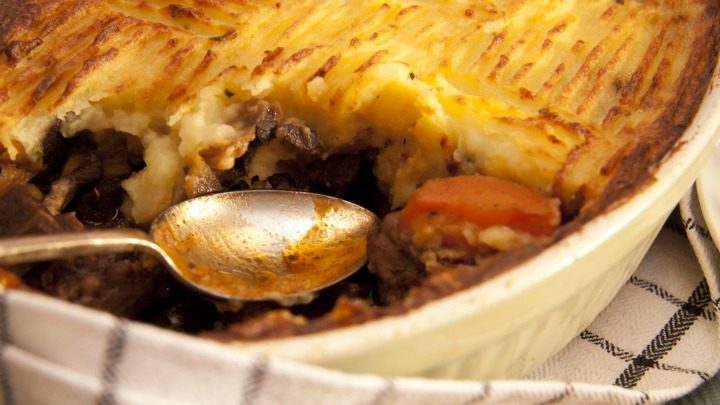 This little beauty is the perfect comfort meal to whip up with the cold months quickly approaching. It's similar to a Shepherd's pie, but with a little Australian twist – vegemite! As strange as it might sound, it works perfectly and adds just right amount of salt to season and add depth to the flavour. Top off the pie with beautiful light and fluffy mashed potato and sprinkle over some parmesan cheese and little knobs of butter for a lovely golden finish.
Ingredients
1/4 cup (60ml) olive oil
500g lamb mince
2 teaspoons Vegemite
1 large onion, finely chopped
6 spring onions, thinly sliced, white and green parts separated
1 1/2 cups (150g) frozen peas
2 tablespoons tomato sauce
1 teaspoon Worcestershire sauce
2 cups (500ml) chicken stock
1 1/2 cups (330g) warm mashed potato
1/2 cup (40g) grated parmesan
1 tablespoon butter
Method
1. Preheat the oven to 180°C. Heat 2 tablespoons oil in a saucepan over medium heat. Increase the heat to medium-high. Add the lamb mince and cook, breaking up any lumps with a wooden spoon, for 3-4 minutes until browned. Stir in the Vegemite. Transfer the lamb to a bowl and set aside.
2. Reduce the heat to medium and add the remaining 1 tablespoon oil. Add the onion and the white part of the spring onion. Cook for 3-4 minutes until softened.
3. Mix in the peas, ketchup, Worcestershire sauce and stir thoroughly to combine. Return the lamb to the pan and add the stock. Stir to combine and season. Mix the green spring onions through the warmed mashed potato.
4. Divide the lamb mixture among four 2 cup (500ml) ramekins or place in a 2L pie dish, then top with the mashed potato and parmesan. Pattern mash with a fork and top with little dabs of butter.
5. Bake for 20 minutes or until the top is nicely browned. Serve immediately.
—————————————————–
If you'd like to see more recipes from Starts at 60, click here. And if you have a recipe you'd like to share with the Starts at 60 community – we'd love to share it! Submit them to us by completing the form below.
Submit your article here
Comments