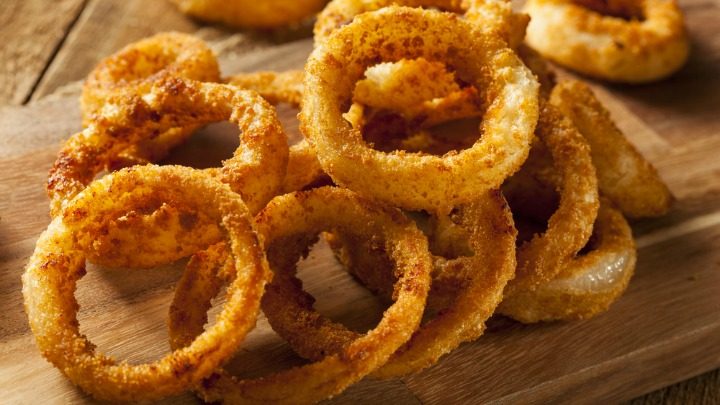 Onion rings were a childhood favourite for many and this amazing recipe is the best and healthiest way to enjoy them as an adult! Instead of deep-frying them in a batch of fatty oil, these delicious onion rings are lightly drizzled with oil and baked in the oven. The buttermilk and panko crumb batter makes the perfect crispy finish, giving that sort-after crunch with every bite. Serve them up with lightly fried fish or a hearty steak and salad for that indulgent throwback goodness.
Ingredients
2 large onions
1 cup plain flour
2 1/2 teaspoons salt
1 teaspoon chilli powder
1/2 teaspoon onion powder
1/2 teaspoon garlic powder
4 cups panko breadcrumbs
4 eggs
1/4 cup buttermilk
Canola oil
Dipping sauce of choice (tomato sauce, aioli)
Method
Preheat your oven to 180°C. Generously brush two sheets of baking paper with canola oil.
Peel off the outermost layer from the onions and discard. Cut off the ends, sparing as much of the onion as possible. Slice the rest of the onion into rings about 1/2-inch thick. Separate the rings, placing them in a bowl of cold water while you cut the rest of the onions.
In a bowl, stir together the flour, salt, chilli powder, onion powder and garlic powder. In a second bowl, whisk together the eggs and buttermilk. Place the panko breadcrumbs in a third bowl.
Take one onion ring, gently toss it in the flour, being sure to coat all sides well. Lightly shake off any excess. Next, dip it in the egg mixture, being sure to coat all sides. Lastly, toss the ring in the panko crumbs to coat. You can somewhat firmly press the egg-coated rings into the breadcrumbs to make sure they stick to the onion. Place on prepared baking sheet. Repeat this process with the remaining onion rings.
Lightly drizzle the tops of the onion rings with canola oil. Bake for 10-15 minutes until golden brown, flipping once about halfway through the baking time. Remove from oven and serve with your favourite dipping sauces.
—————————————————–
If you'd like to see more recipes from Starts at 60, click here. And if you have a recipe you'd like to share with the Starts at 60 community – we'd love to share it! Submit them to us by completing the form below.
Submit your article here
Comments