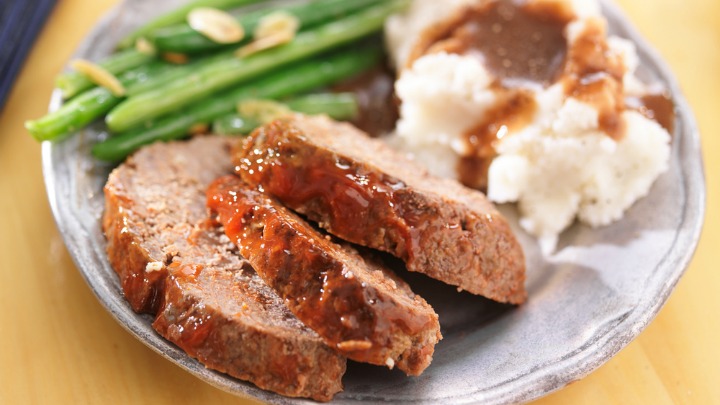 Remember when eating a plate of meatloaf meant munching on a heavy slab of meat that – depending on what household you grew up in – was often either way too salty or way too bland? Well those days are over! Meatloaf has been given a makeover and the new version is packed full of veggies herbs for a wholesome and delicious meal. Use heart smart meat so you can a good dose of protein without the unhealthy fats.
Ingredients
1 tablespoon olive oil
1 brown onion, finely chopped
2 garlic cloves, crushed
1 medium zucchini, grated
1 medium carrot, peeled, grated
1 bunch parsley, chopped
1 1/2 cups fresh breadcrumbs
500g heart smart beef mince
300g heart smart pork and veal mince
1 egg, lightly beaten
1 tablespoon wholegrain mustard
2 teaspoons Worcestershire sauce
1/2 cup tomato sauce
1/4 cup barbecue sauce
Method
1. Preheat oven to 200°C/180°C fan-forced. Grease a 9cm-deep, 9cm x 19cm (base) loaf pan. Heat oil in a medium frying pan over medium heat. Add onion and garlic. Cook, stirring, for 5 minutes or until onion has softened. Set aside for 5 minutes to cool.
2. Place onion and garlic, zucchini, carrot, parsley, breadcrumbs, minces, egg, mustard, Worcestershire sauce and 1/2 cup tomato sauce in a bowl. Mix to combine. Spoon into pan. Level top with a spoon.
3. Spread barbecue sauce over top of mince. Bake for 1 hour or until meatloaf is browned and comes away from sides of pan. Drain juices from pan. Set aside for 5 minutes. Serve with mash potato, green beans and gravy.
—————————————————–
If you'd like to see more recipes from Starts at 60, click here. And if you have a recipe you'd like to share with the Starts at 60 community – we'd love to share it! Submit them to us by completing the form below.
Submit your article here
Comments