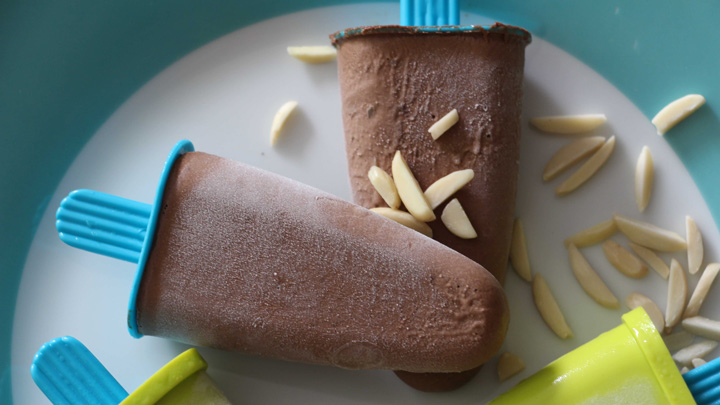 These ice pops are the perfect treat for a hot day. They are easy to make, super tasty and full of healthy goodness. The grated chocolate and chopped almonds add a nice crunchy texture. Because they contain good fats and protein, these treats are a filling and satisfying snack. They are much lower in sugar than store bought ice cream, so enjoy without the guilt! The recipe makes around 6 popsicles, depending on the size.
Ingredients
1 ripe banana
2-3 tablespoons raw cacao powder
½ can coconut milk
1 tablespoon cashew butter
1 tablespoon honey (optional)
2 tablespoons grated dark chocolate (85-90%)
2 tablespoons slivered or chopped almonds
Utensils
High-speed blender, stick blender or food processor 
Preparation
Blend banana, cacao powder, coconut milk, cashew butter and honey until smooth and creamy
Mix in the grated dark chocolate and chopped almonds
Pour into popsicle moulds and freeze 
Cooking tips
Use frozen banana for a creamier texture.
Variations
Replace cashew butter with almond or macadamia butter
Replace honey with rice malt syrup or stevia
Add chia seeds to the mix for added fibre and omega-3's 
What's good about this recipe
Raw cacao powder is the unprocessed cocoa bean. It is a rich source of magnesium and contains high levels of polyphenols that help to prevent degenerative diseases, particularly cardiovascular diseases and cancers.
85-90% dark chocolate contains the highest concentration of flavanoids than other dark or milk chocolate. This is responsible for boosting its anti-oxidant and anti-inflammatory properties. 85% dark chocolate is also lower in sugar, containing less than a quarter of the amount found in milk chocolate.
Nuts contain moderate amounts of protein (9–20%) and, with the exception of chestnuts, also contain large quantities of fat (49–74% total fat). This fat is mostly monounsaturated or polyunsaturated fat. 30g of nuts a day has been shown to lower heart disease risk by 30-50%, reduce risk of type 2 diabetes by around 25% and assist in managing weight. A daily 30g handful has also been found to improve longevity.
Comments