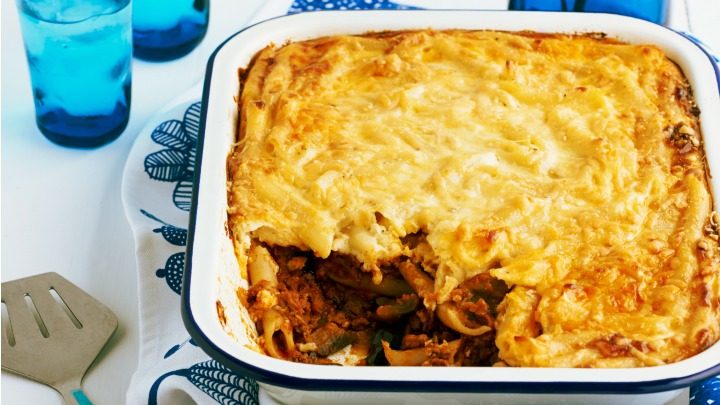 Comforting pasta bakes are so versatile and easy to make once you know what you're doing. This recipe is a twist on the classic, using eggplant and lamb to make the delicacies red sauce component, while fresh greek yoghurt adds a healthy and creamy component to the white sauce. Serve up a generous slice with a side of green beans and broccoli and freeze whatever you have leftover to pull out when you need a quick and tasty dinner down the track. Yum!
Ingredients
Red Sauce
1 tablespoon oil
1 onion, finely chopped
500g minced lamb
1/4 cup chopped flat-leaf parsley
1 clove garlic, crushed
1 teaspoon dried oregano
1/2 teaspoon ground cinnamon
1/4 teaspoon sugar
Salt and freshly ground black pepper, to taste
600g eggplant, cut into 2cm pieces
700ml bottle tomato passata (Italian tomato cooking sauce – you can use regular pasta sauce instead though)
White sauce
40g butter, chopped
1/4 cup plain flour
1/4 teaspoon nutmeg
2 cups milk
2 eggs
250g Greek-style natural yogurt
1/2 cup grated parmesan cheese
300g penne pasta, cooked to packet instructions, drained
Method
1. For the red sauce: Heat oil in a large saucepan and cook the onion over medium heat for 3-4 minutes. Add lamb and cook over high heat, stirring to break up lumps for 5 minutes or until browned. Stir in the parsley, garlic, oregano, cinnamon, sugar and seasonings and cook for 1-2 minutes. Add the eggplant and passata, cover and simmer for 30-40 minutes. Remove the lid and cook for a further 10 minutes until reduced slightly.
2. For the white sauce: Melt the butter in a saucepan over medium heat, add the flour and nutmeg and cook, stirring, for 1-2 minutes without colouring. Whisk in the milk and then cook until smooth and thick, whisking continuously. Remove from the heat and whisk in eggs, yogurt and half the parmesan. Season with salt to taste.
3. Combine half of the pasta with the red sauce and spoon into a lightly buttered 5 litre casserole dish. Combine the remaining pasta with the white sauce and spread over the lamb. Sprinkle with the remaining cheese. Bake at 200⁰C for 25-30 minutes or until golden brown.
—————————————————–
If you'd like to see more recipes from Starts at 60, click here. And if you have a recipe you'd like to share with the Starts at 60 community – we'd love to share it! Submit them to us by completing the form below.
Submit your article here
Comments