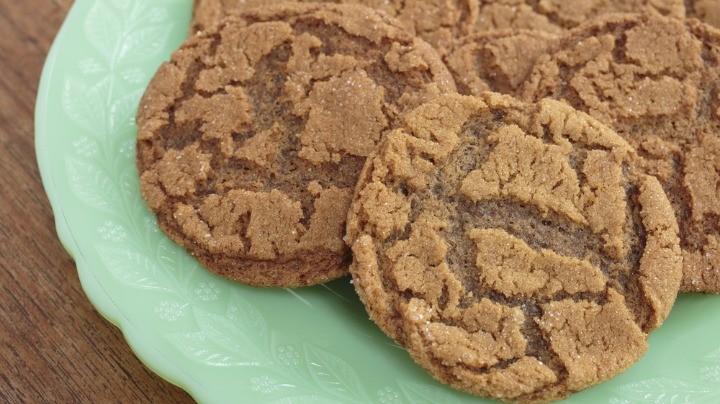 Ginger snap cookies are a favourite in many households and for good reason, too! The lovely little biccies are super tasty and so easy to make. While some recipes call for molasses and a whole range of spices, this one makes good use of golden syrup and fresh ginger giving you that amazing flavour you'd expect out of a top notch biscuit. Enjoy!
Ingredients
50g butter (salted or unsalted)
50g light brown sugar
50g golden syrup
110g plain flour
1/2 tsp bicarbonate of soda
1 tsp ground ginger
Method
1. Preheat the oven to 180°C. Line a baking tray with greaseproof paper, grease with a bit of sunflower oil using a pastry brush.
2. Put the butter, golden syrup and sugar into a saucepan, heat gently and stir with a wooden spoon until the butter has melted into the syrup and sugar mixture.
3. Sift the flour, ground ginger and bicarbonate of soda into the saucepan and stir into the syrup mixture until it forms a soft smooth dough.
4. Take 1 teaspoon at a time of the dough roll into a ball and place on the baking tray, make sure they are spaced about 5cm apart each. Bake the biscuits in the oven for about 15-20 minutes until the tops are starting to crack and brown. Cool for 5 minutes then loosen off the greaseproof paper, place in a biscuit tin or container of your choice lined with greaseproof of kitchen paper.
—————————————————–
If you'd like to see more recipes from Starts at 60, click here. And if you have a recipe you'd like to share with the Starts at 60 community – we'd love to share it! Submit them to us by completing the form below.
Submit your article here
Comments