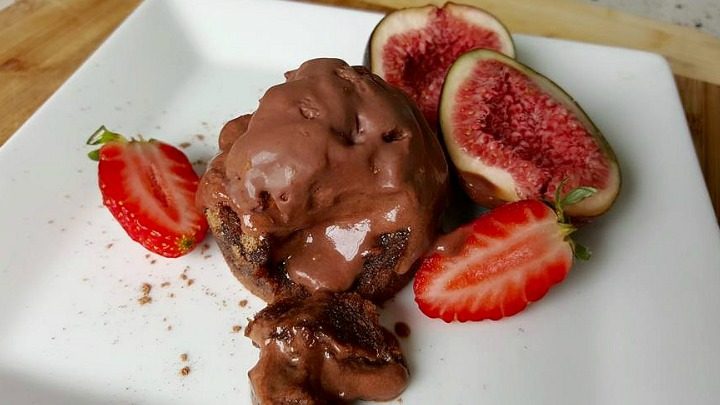 This chocolate molten lava cake is gluten free (yay!) but that doesn't mean it does not taste just as sinful as the real thing. In fact, it is so delicious that some people couldn't even tell it's gluten free! All you need to do is to mix the sugar, eggs and salt together and then pour in the butter and chocolate chips, which had been melted together. Finish off by adding three tablespoons of rice flour, mix and bake. So easy! This chocolate molten lava cake is perfect to end any dinner…
Ingredients
1/3 cup sugar
1 egg
1 egg yolk
Pinch of salt
2 tbsp butter
1/3 cup dark chocolate chips
3 tbsp of rice flour
Method
1. Preheat oven to 200°c (not fan forced). Mix the sugar, egg, egg yolk, and salt together in a bowl.
2. Melt butter and chocolate chips together in the microwave or carefully over a medium heat on the stove.
3. Pour butter and chocolate mixture into egg and sugar mixture, stirring constantly. Mix together well.  Add rice flour and stir just to combine. Do  not over mix.
6. Pour mixture into 3 ramekins and bake in oven for 10-12 mins. When the sides are coming off, remove and from oven immediately so as not to over bake. Serve with your favourite ice cream, fruits and a drizzle of honey or caramel if you like.
Good luck and let us know how you go!
—————————————————–
If you'd like to see more recipes from Starts at 60, click here. And if you have a recipe you'd like to share with the Starts at 60 community – we'd love to share it! Submit them to us by completing the form below.
Submit your article here
Comments