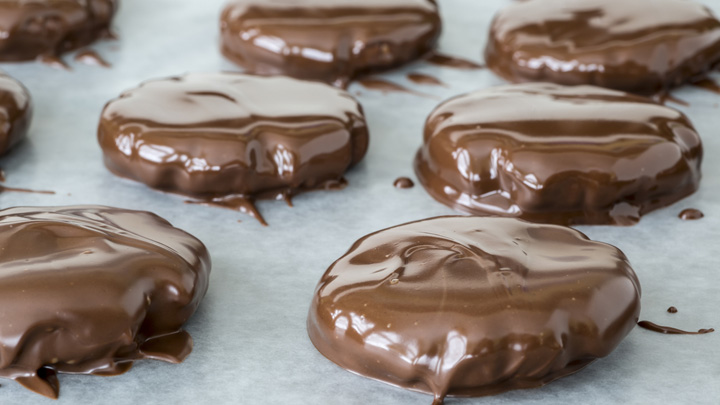 Peppermint creams, just like Grandma made, were some of the treats we looked forward to as a child.
Now, we've found a recipe you can make at home with just 4 ingredients! They taste amazing.
Ingredients
Method
Place egg whites in a bowl and whisk until frothy. Add icing sugar and peppermint essence. Using a wooden spoon, stir until mixture almost comes together. Using clean hands, bring mixture together to form a ball.

Transfer the mixture onto a clean surface lightly dusted with icing sugar. Knead until smooth and not sticky. Work in extra icing sugar if necessary. Place the mixture between 2 large sheets of baking paper lightly dusted with icing sugar. Roll out until 1cm thick.

Line 2 large, flat baking trays with baking paper. Using a 3.5cm round cutter, cut rounds out of dough. Press leftover dough together and repeat.

Place rounds on prepared trays. Set aside, uncovered, overnight, turning over once to allow peppermint creams to dry out.

Dip each peppermint cream in melted chocolate (not too hot or it will melt the peppermint mixture). Return peppermint creams to trays. Refrigerate until chocolate is set and enjoy!
—————————————————–
If you'd like to see more recipes from Starts at 60, click here. And if you have a recipe you'd like to share with the Starts at 60 community – we'd love to share it! Submit them to us by completing the form below.
Submit your article here
Comments