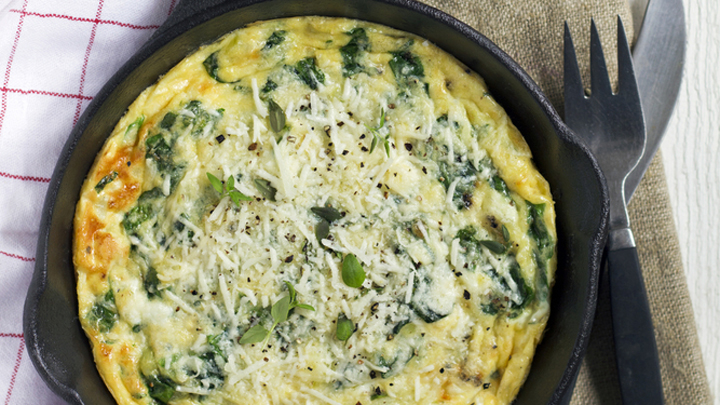 Frittatas are a fantastic brekky option. They're inexpensive to make and quick cooking. However, the trouble is they often tend to be over cooked or too watery.
Here's a few tricks and techniques for the perfect frittata:
Use cooked ingredients. If you use raw ingredients your frittata will end up watery.
Select cheeses that are lower in moisture.
Try not to over-beat the eggs as it will create volume and a collapsed frittata.
Cook eggs on medium heat to prevent overcooking.
Ingredients
1 tablespoon unsalted butter
1 onion, thinly sliced
1.5 cups zucchini and summer squash combination
12 large eggs
1/4 cup heavy cream
1 tablespoons of chopped fresh chives
4 basil leaves, cut into pieces.
1/2 cup grated parmesan cheese
85g of fresh goats cheese
Method
Heat fry pan, melt butter and add the onion. Cook for a few minutes until onions are translucent.
Add 1 1/2 cups of zucchini and summer squash to frying pan. (Halved length wise and cut into quarter slices). Cook for about 3-4 minutes or until slightly brown and soft; the volume will be much less. This means all of the moisture has been cooked out.
Crack 12 eggs into a large bowl. Add cream. Whisk together gently; try not to over beat the eggs. Then add chives and basil and season with salt and pepper. (Whisk enough to combine the ingredients but not to incorporate the air)
Make sure temperature is on medium heat and add egg mixture to pan. Gently pull some of the egg mixture into the middle; this will help create a fluffy frittata. Cook until bottom is fairly set but the top is still loose and runny.
Sprinkle parmesan cheese on top and then add goat cheese (place in dots on top).
Preheat broiler on high and have a rack situated near the top. Place pan in oven for 1 to 2 minutes; watch closely.
—————————————————–
If you have a recipe you'd like to share with the Starts at 60 community – we'd love to share it! Submit them to us by completing the form below.
Submit your article here
Comments