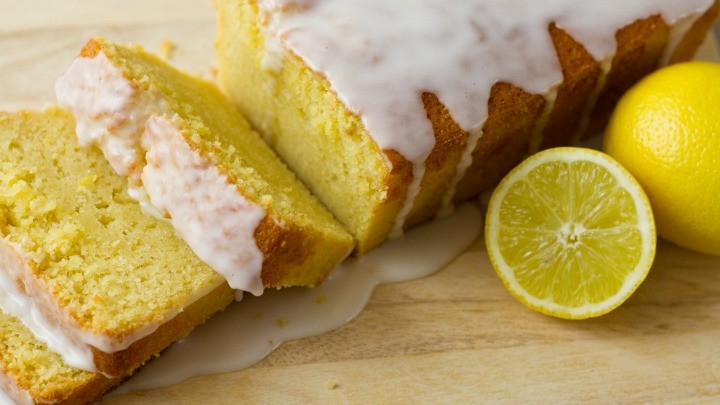 Everyone has a favourite lemon dessert recipe, whether it is a classic lemon tart or a delicious lemon meringue pie. However this lemon cake makes use of yoghurt and makes it extra fluffy. The lemon syrup leaves even the biggest sweet tooth satisfied. Serving 10 people this recipe is a great way to take advantage of lemon season.
Lemon syrup
Method
You will need to grease and line a 22cm springform cake pan with baking paper and preheat the oven to 180C.
Whisk the sugar and eggs with an electric mixer for 4 minuets. They should look pale and creamy before adding the lemon juice and zest. Once added, whisk for a further minute.
Stir in the flour, oil and yoghurt and stir until smooth. Then spoon into the cake pan and place in oven for 45 minutes or until a skewer can be inserted and removed crumb free.
To make the syrup, place the lemon zest into a saucepan filled with boiling water for approximately 1 minute. Drain the water and set the zest aside. Combine the lemon juice the sugar and the 2 tablespoons of water into the same saucepan. Cook over a low-medium heat, stirring until the sugar dissolves. Allow the syrup to simmer for 3 minutes or until it has thickened up. Return the zest to the pan and the result should be approximately 1/2 a cup of syrup.
Using a skewer, poke 15 holes into the top of the cake. Carefully pour the hot syrup over the cake and it should sink into the holes. The cake will absorb the syrup and add small amounts of syrup so as not to overload the cake too quickly. Stand the cake in the pan for 30 minutes. Release the cake from the pan and drizzle any remaining syrup and serve with a scoop of greek style yoghurt.
If you have a recipe you'd like to share with the Starts at 60 community – we'd love to share it! Submit them to us by completing the form below. 
Submit your article here
Comments