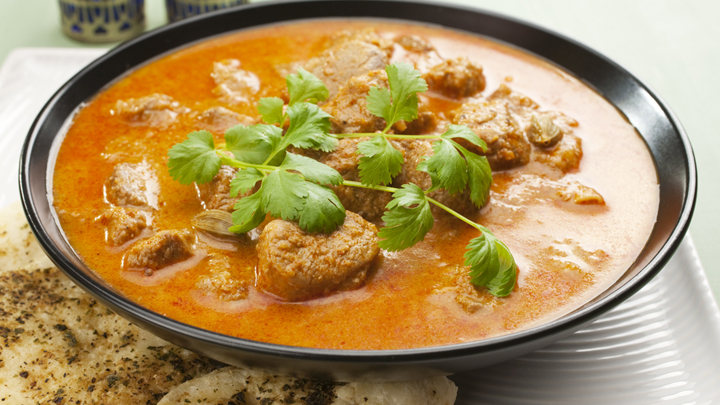 This lamb curry is a real winner and is packed with flavour and easy to make. The hardest part will be waiting for it to cook; the other steps and ingredients are simple! In fact, this recipe will make you look like a real chef.
Serves 4 
Ingredients
1/4 cup vegetable oil
1 large onion, finely chopped
3 garlic cloves, crushed
3cm piece ginger, peeled and grated
2 tablespoons rogan josh curry paste
1.5kg diced lamb leg
1 cup Greek-style yoghurt
500g tomatoes, diced
Steamed Basmati rice and coriander leaves, to serve
Method
Heat oil in saucepan over high heat and add onion; cook for 3 to 4 minutes. Add garlic, ginger and curry paste.  Cook and stir for 1 minute.
Add lamb to pan; stir and cook for 3 minutes. Add yoghurt, tomatoes and 1 teaspoon salt. Cook for 5 minutes or until curry comes to a boil. Reduce heat to low.
Cook, uncovered for 1 hour 15 minutes or until sauce has thickened and lamb is tender.
Serve with rice and sprinkle with coriander.
 Tell us, what is your favourite curry recipe?
—————————————————–
If you have a recipe you'd like to share with the Starts at 60 community – we'd love to share it! Submit them to us by completing the form below.
Submit your article here
Comments