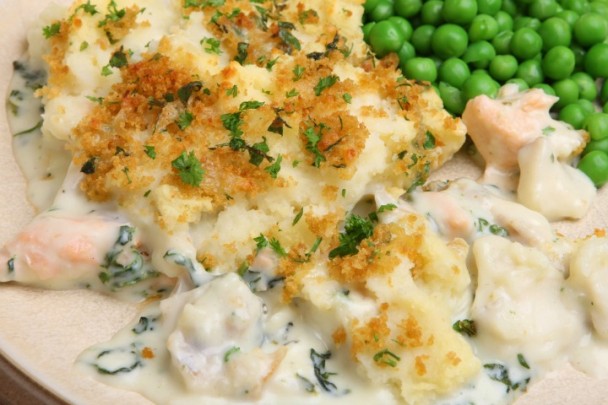 Cooking fish on Good Friday is a time-honoured tradition, but it doesn't mean you have spend hours slaving over a hot oven. This classic pie is easy to make and the lemony mash with crunchy parmesan adds a special twist that's perfect for Easter. You can serve it up with whatever sides you like; try buttered peas or green beans and a nice slice of crusty bread to soak up the sauce from the pie. Yum!
Ingredients
900g potatoes
Zest of 1 small lemon
3 tablespoons lemon juice
1/2 cup hot milk
3 tablespoons butter, divided in three plus a little extra for greasing the tray
2 onions, peeled and diced
2 cloves garlic, peeled and diced
1 cup cream
3 tablespoons fresh dill
Salt & Pepper to season
1kg raw fish fillets or seafood
3 tablespoons breadcrumbs
3/4 cup parmesan cheese
Method
1. Make the lemon mashed potatoes. Steam or boil the potatoes until tender. Press the potatoes through a potato ricer or use a masher while hot. Add the lemon zest and juice and stir. Heat the milk and 1 tablespoon of the butter and pour over the potatoes. Stir and season with salt and pepper. Set aside.
2. Heat a saucepan on medium high and add another tablespoon of butter. Fry the onion and garlic until fragrant and translucent. Then add the cream and dill and season with salt and pepper and reduce until the cream is thick and can coat the back of a spoon.
3. Preheat oven to 220C. Grease a 28 x 21cm tray with a little butter and place the raw seafood in the tray. I used mixed seafood but if you have fish fillets, cut them into bite sized chunks. Pour the hot cream sauce over the fish.
4. You can then spread or pipe the mashed potato topping on top. Sprinkle with the breadcrumbs and parmesan and cut up the remaining tablespoon or so of butter and dot with small cubes of butter. Bake for 25 minutes until the potato is golden.
—————————————————-
If you'd like to see more recipes from Starts at 60, click here. And if you have a recipe you'd like to share with the Starts at 60 community – we'd love to share it! Submit them to us by completing the form below.
Submit your article here
Comments