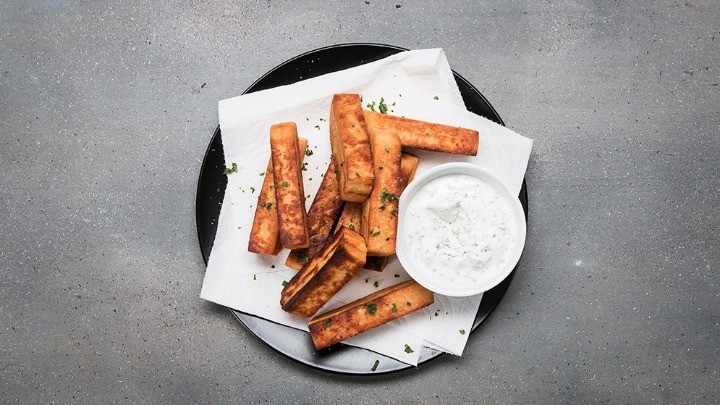 If you have heard of and like the trend of taking everything but potatoes and making them into chips you will love this recipe. Chickpeas are very rich in protein and this makes them an excellent alternative for anyone who is vegetarian or vegan. They are relatively cheap to buy in any major supermarkets and form the base for hummus. If you enjoy trying new things, this one is definitely for you!
Ingredients
4 cups of water
2 cups of chickpea flour
oil
1/2 cup of greek yoghurt
1 Tbsp. of finely chopped parsley
1 Tbsp. of finely chopped dill
1 clove garlic minced
1 tsp. lemon juice
pinch of salt
Method
Bring the water to boil before slowly whisking in the chickpea flour. Continue to whisk until the mixture is thickened. It should resemble thick oatmeal. As soon as this happens transfer the mixture onto a lightly greased baking dish (the larger your dish the thiner the chips will be).
Evenly spread the mixture and knock the dish on the work surface gently to release any air bubbles.
Use plastic wrap to seal the chickpea mixture in before refrigerating for 2 hours so that it can set.
Once set, invert the dish and allow the set mixture to drop out cleanly onto a chopping board.
Slice into desired size chips (large steak size chips or thin fries).
Shallow fry in oil until each side is golden in colour. Once taken out of the oil salt them immediately and serve.
To make a dipping sauce mix the yoghurt, parsley, dill, garlic, lemon juice and a pinch of salt in a medium sized bowl before transferring to a serving dish.
Comments