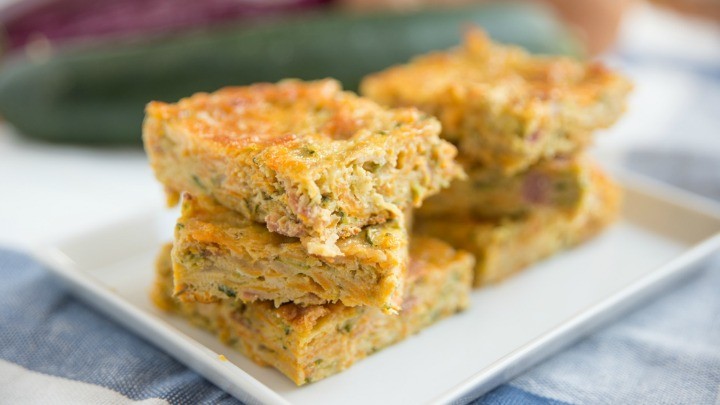 Slices are the perfect summer food – they utilise fresh produce and are easy to make as well as easy to pack for picnics and outings. This sweet potato and zucchini slice is both healthy and tasty. Paired with tomatoes it is sure to please everyone.
Ingredients
250g zucchini, grated, moisture removed
240g cherry tomatoes
Balsamic vinegar, to serve
1/4 cup plain flour
Method
Preheat the oven to 180C before greasing and lining a 26 x 16cm base slice pan.
In a large non-stick frying pan, heat the oil over a high heat. Introduce the onion and stir for 3 minutes or until the onion is soft. Next add in the sweet potato and continue to cook for 3 – 4 minutes. The sweet potato should be soft before you add in the garlic while cooking for an additional minute.
In a large bowl whisk the egg whites, eggs and flour until smooth. Next whisk in the ricotta until the mixture is just combined. Stir in the sweet potato, chives, zucchini and parsley.
Transfer the mixture into the prepared pan and bake for about 25 – 30 minutes. The slice should appear golden. Remove from oven and set aside to cool.
While the slice is cooling, roast the tomatoes (spray with olive oil first) in the oven on a baking tray. It should take approximately 10 minutes.
Cut the slice and serve with the roasted tomatoes next to some rocket and a drizzle of vinegar.
If you have a recipe you'd like to share with the Starts at 60 community – we'd love to share it! Submit them to us by completing the form below. 
Submit your article here
Comments