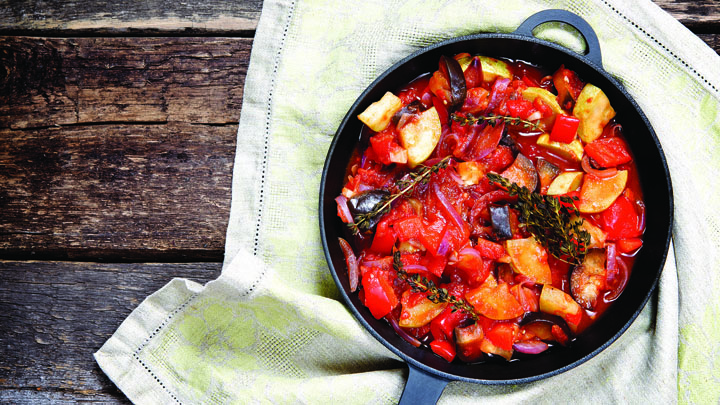 Every autumn, we get the urge to make a big, strongly flavoured vegetable stew which we enjoy for several meals, each better than the last. This short cut version is excellent.
Serves 6-8
Ingredients
600ml (2fl oz) olive oil
2 medium-sized aubergines (eggplant)
4 red, orange and yellow peppers (bell peppers)
4 green and/or yellow courgette (zucchini)
4 large onions
1½ teaspoons (2 cloves) minced garlic up to 60ml (2fl oz) extra olive oil
2 x 400g (14oz) cans of whole tomatoes
2 teaspoons sugar
1 teaspoon salt
2 tablespoons basil pesto
2–3 tablespoons chopped fresh herbs
Method
Make this in the largest, heaviest (lidded) pot, frying pan or flame-proof casserole dish that you have. Heat the first measure of olive oil in it and add the unpeeled aubergine, sliced peppers, and courgette, all cut in 2cm (0.8in) chunky pieces. Cook over a medium to high heat for 15 minutes, so that the vegetables brown lightly but do not steam in large amounts of watery juices.
Add the onions chopped into similar sized pieces, the garlic, and enough extra oil to stop the mixture sticking or burning. Raise the heat slightly, and cook for 15 minutes longer, until the onions are transparent and lightly browned, too. (Cook the vegetables in batches if you find this easier.)
Stir in the tomatoes (and juice), add the sugar, salt and pesto, and bring to the boil with the lid ajar.
Cook on medium heat so the liquid bubbles and thickens, but the vegetables do not burn. We like the stew at the stage where the liquid is quite thick but the vegetables still have some firmness, after about 15 minutes simmering. Taste and adjust seasoning.
Serve in bowls, with chunks of firm, crusty bread, as a complete meal OR serve on pasta or rice, topped with parmesan or ladle generous amounts into a saucepan of cooked, drained, firm potatoes, heat through, and serve in bowls.
VARIATION:
To reduce cooking time, use less oil and maximise flavour, brush the thickly sliced egg plant with olive oil and brown in a contact grill (on medium setting). Repeat with the halved peppers and courgette and thickly sliced onions. When browned, cut in cubes and simmer with the remaining ingredients, as above.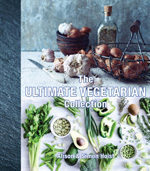 This recipe was adapted from Ultimate Vegetarian Collection by Alison and Simon Holst, available from New Holland Publishers. Click here to learn more.
Comments