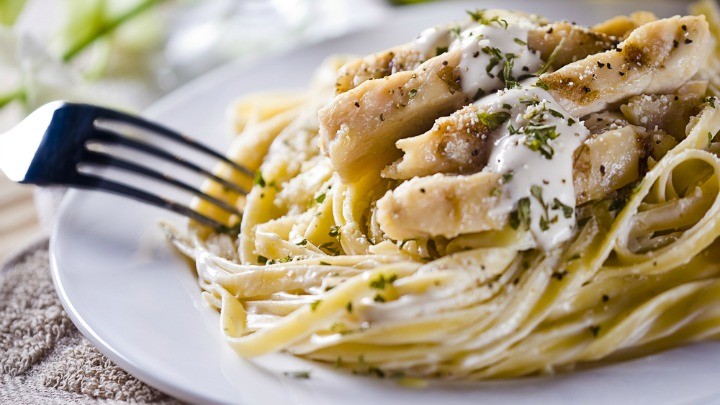 Who doesn't love a one pan meal? It means less washing up, less mess and more time with the family or friends who you are cooking this for. Alfredo is the term used for the preparation of pasta cooked in butter and parmesan cheese. It is one of the most traditional ways to prepare pasta and earned its name after Alfredo Di Lelio who was a restauranteur in Italy throughout the early to mid 20th century.
Ingredients
3 tablespoons olive oil
700grams of boneless skinless chicken breast
2 cloves garlic
1 can chicken stock (Approximately 415ml)
1 cup heavy cream
230grams of penne pasta uncooked
2 cups parmesan cheese shredded
1 dash salt and pepper
Method
Slice chicken breasts into 2.5cm pieces and season with 1/2 a teaspoon of salt and pepper. Then brown chicken off in a pan with olive oil over a medium high heat. The chicken does not need to be cooked 100% as it will overcook during the simmering process.
Once the chicken is browned off, add in the minced garlic and fry for about 1 minute. Then pour in the chicken broth, cream and the pasta (uncooked) then stir.
Bring the pasta to boil and then cover and reduce to a simmer for about 15-20 minutes or until the pasta is tender.
Remove from heat and stir in the parmesan cheese that has been shredded. Season to taste with salt and pepper.
Make sure the pan is covered while the pasta and chicken are simmering.
This delicious and simple pasta dish is a great meal to share for dinner.
If you have a recipe you'd like to share with the Starts at 60 community – we'd love to share it! Submit them to us by completing the form below. 
Submit your article here
Comments