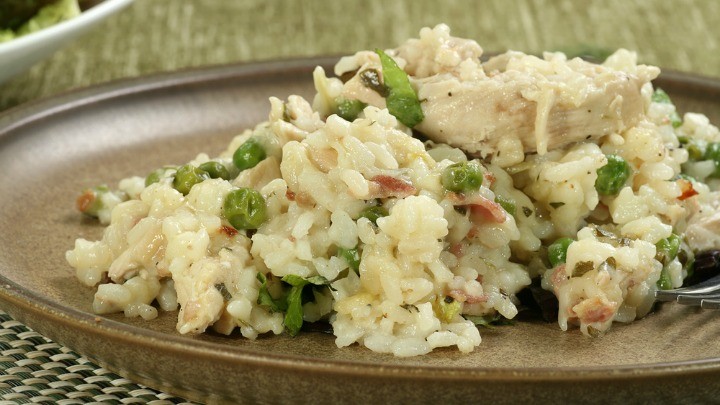 When it comes to winter comfort food, risotto is a winner every time. There's so much you can do with the versatile dish and so many different flavours you can add along the way. This version is the perfect balance with crispy bacon, tender chicken, and lovely peas and mushrooms for your vegetable hit. Delish!
Ingredients
2 tablespoons olive oil
400g chicken breast or thigh, cut into strips
3 rashers rindless bacon, thinly sliced
250g button mushrooms, quartered
1 large garlic clove, crushed
2 teaspoons Chicken Stock Powder
3 cups arborio rice
1 1/2 litres of water
3 shallots, trimmed, thinly sliced
1/2 cup peas
25g (1/3 cup) grated parmesan
1/3 cup fresh oregano leaves
Method
1. Heat 1 tablespoon of oil in a large saucepan over medium heat. Add chicken and cook for 3-5 minutes, until cooked through. Remove from pan and set aside. Add the rest of the oil to pan and add bacon and cook, stirring, for 1-2 minutes or until golden. Add the mushroom and garlic, and cook, stirring often, for 1-2 minutes or until soft. Return chicken to pan.
2. Add the stock powder and rice. Stir to combine. Reduce heat to low. Add 1/2 cup stock mixture to rice mixture. Cook, stirring, until stock has absorbed. Repeat with remaining stock, 1/2 cup at a time, until all liquid is absorbed and rice is tender and creamy.der.
3. Stir in the shallot and peas. Cook, stirring, for 1-2 minutes or until tender. Remove from heat and stir in the parmesan and oregano. Season with pepper.
—————————————————–
If you'd like to see more recipes from Starts at 60, click here. And if you have a recipe you'd like to share with the Starts at 60 community – we'd love to share it! Submit them to us by completing the form below.
Submit your article here
Comments