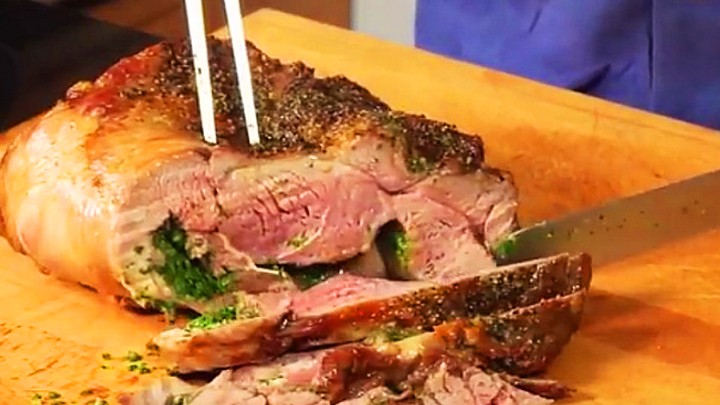 There's nothing like a good Sunday roast and for many, Easter calls for something a little more special than usual. This recipe has the perfect Easter twist, using a butterflied leg of lamb and an easy herb paste, which is rolled up and ready to roast in a matter of minutes. You'll find butterflied lamb legs at your local butcher and most supermarkets. Enjoy!
Ingredients
Butterflied leg of lamb, 3 to 4 pounds
2 to 3 tablespoons olive oil
4 cups parsley leaves
1 tablespoon fresh rosemary leaves or 1 teaspoon dried rosemary
3 to 4 cloves garlic
1 teaspoon lemon zest
Salt and freshly ground black pepper
Method
1. Heat oven to 220°C. Trim excess fat from lamb. In a food processor, make herb paste by whizzing olive oil, parsley, rosemary, garlic, lemon zest and some salt and pepper.
2. Season lamb with salt and pepper on both sides, then turn so the side that had been on the bone, the one with the more irregular surface, is facing up, with the long side closest to you. Smear the surface of lamb with 3/4 of herb paste, then fold it in half with herb paste on the inside. Smear the remaining herb paste on outside of the lamb and sprinkle with salt and pepper.
3. Put lamb in a roasting pan and cook for about 35 to 40 minutes for rare meat, or 50 to 55 minutes for medium.
4. Transfer the lamb to a cutting board and let it rest for a few minutes; slice, and serve with simple roast veggies.
————————————————
If you'd like to see more recipes from Starts at 60, click here. And if you have a recipe you'd like to share with the Starts at 60 community – we'd love to share it! Submit them to us by completing the form below.
Submit your article here
Comments