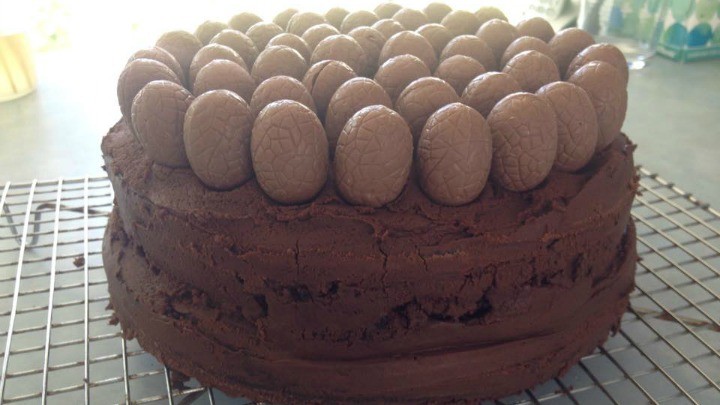 This Easter cake looks decadent but is super easy to whip up! The cake itself is moist yet light, while the icing has a rich chocolatey finish. Decorate with your favourite flavoured Easter eggs, think caramel, peppermint, turkish delight, or go plain for a classic finish!
Ingredients
2 cups white sugar
1 3/4 cups all-purpose flour
3/4 cup unsweetened cocoa powder
1 1/2 teaspoons baking powder
1 1/2 teaspoons baking soda
1 teaspoon salt
2 eggs
1 cup milk
1/2 cup vegetable oil
2 1/4 teaspoons vanilla extract
1 cup boiling water
Icing
1 1/4 cup pure icing sugar
1 tablespoon cocoa powder
10g (2 teaspoons) butter, at room temperature
1 tablespoon boiling water
Method
1. Preheat oven to 175°C. Grease and flour two 23cm-round cake tins.
2. In a large bowl, stir together the sugar, flour, cocoa, baking powder, baking soda and salt. Add the eggs, milk, oil and vanilla, mix for 2 minutes on medium speed of an electric mixer. Stir in the boiling water last. Batter will be thin. Pour evenly into the prepared pans.
3. Bake for 30 to 35 minutes, until the cake tests done with a toothpick. Cool in the cake tins for 10 minutes, then remove to a wire rack to cool completely.
4. To make the chocolate icing, sift the icing sugar and cocoa into a medium bowl. Add the butter and water, and stir with a wooden spoon until smooth. Use the back of a spoon or palette knife to spread the icing evenly over the top of the cooled cake. Set aside for about 50 minutes or until the icing is firm.
————————————————
If you'd like to see more recipes from Starts at 60, click here. And if you have a recipe you'd like to share with the Starts at 60 community – we'd love to share it! Submit them to us by completing the form below.
Submit your article here
Comments