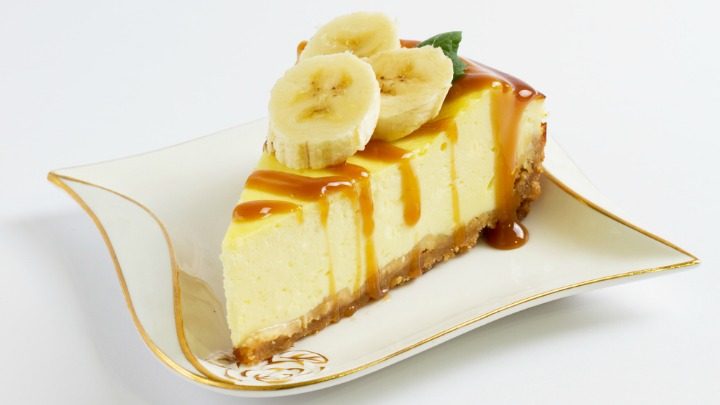 We love a good cheesecake and this one is something extra special. Banana and toffee are always a winning combination and pairing it with the cheesecake makes an incredibly delicious and decadent dessert. The flavours are rich yet light with creamy and airy cheesecake, sweet toffee and fresh banana to finish it off. Make it for a special occasion to impress your guests, or splash out and make it for yourself this weekend – you deserve it!
Ingredients
70g unsalted butter, melted
3 teaspoons powdered gelatine
100g wholemeal biscuits, broken
2 eggs, separated
75g caster sugar
225g mascarpone
1 vanilla bean, split, seeds removed
300ml thick cream, whipped
2 bananas, sliced
50g flaked almonds, roasted
Toffee sauce
150ml thickened cream
75g unsalted butter
150g brown sugar
1 teaspoon vanilla extract
Method
1. Use a little of the melted butter to brush the base and sides of a 20cm springform pan. Line the base with baking paper.
2. Dissolve gelatine in 2 tablespoons hot water. Set aside. Crush the biscuits in a food processor. Combine remaining butter with biscuit crumbs and press into the base of the pan.
3. Place egg yolks, two-thirds of the sugar, the mascarpone and the seeds from the vanilla bean in an electric mixer and beat until pale. Add the gelatine and whipped cream. Beat eggwhites and remaining sugar in a bowl until stiff peaks form, then fold into the cheese mixture. Spoon over the base, then refrigerate overnight.
4. To make the toffee sauce, place all ingredients in a pan over low heat, stirring to dissolve the sugar. Then increase heat to high and cook for a further 2 minutes. Set aside to cool, then refrigerate for 2-3 hours before serving.
5. To serve, arrange banana slices on top of the cake, drizzle with the sauce and sprinkle with almonds.
—————————————————–
If you'd like to see more recipes from Starts at 60, click here. And if you have a recipe you'd like to share with the Starts at 60 community – we'd love to share it! Submit them to us by completing the form below.
Submit your article here
Comments