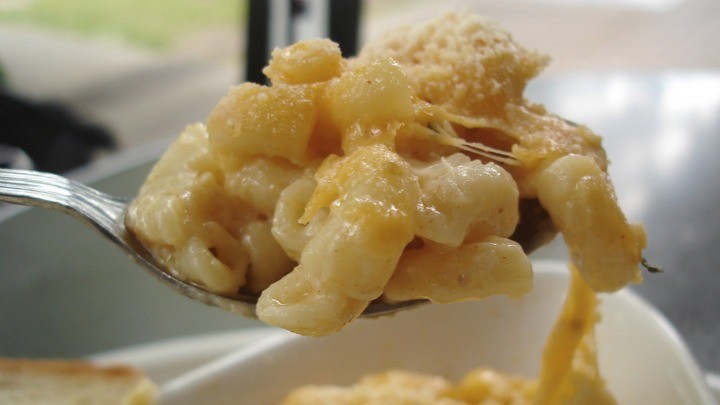 Cheesy, tasty and healthy – this recipe has it all! Macaroni and cheese is always a delicious treat, but it can be unhealthy too thanks to the traditional call for hefty amounts of cheese and cream.
Thankfully, there's still a way to enjoy a bowl-full of this tasty dish without all the calories. This recipe substitutes cream for butternut squash, meaning you get a bonus serve of vegetables with every mouthful and cut out calorie-laden cream.
Ingredients
2 cups uncooked elbow pasta
1 tablespoon butter
1 small yellow onion
1 small butternut squash (4-5 cups cubed)
5 cups chicken or vegetable stock
¾ cup milk
1 teaspoon salt
⅔ cup grated cheddar cheese (You can use any hard cheese you like. Try Gruyere full a fuller flavour)
Parsley for topping
Salt and pepper to taste
1 tablespoon parsley, chopped
Method 
1. Cook the pasta according to package directions. Drain and set aside. Heat the butter in a large skillet over medium low heat. Cut the onion into thin rings and add to the butter in the pan, sautéing over low heat until fragrant and golden, about 20 minutes.
2. Meanwhile, remove the skin and the seeds from the squash. Cut the flesh into small cubes. Bring the stock to a boil and add the squash. Cook for 5-7 minutes or until fork tender. Drain, reserving ½ cup stock, and transfer squash to the blender. Add the onions, milk, salt, and reserved broth and puree until completely smooth and creamy. This should yield about 4 cups sauce.
3. Pour the pureed sauce over the cooked pasta and add the grated cheese. Stir to melt the cheese; add water or milk to adjust consistency as needed. Season with salt and pepper to taste and top with parsley.
————————————————————
If you'd like to see more recipes from Starts at 60, click here. And if you have a recipe you'd like to share with the Starts at 60 community – we'd love to share it! Submit them to us by completing the form below.
Submit your article here
Comments