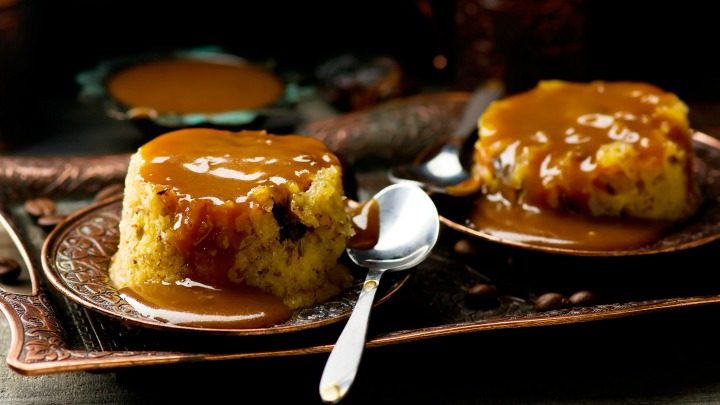 It's a sort of carrot cake, sticky date pudding hybrid, but it's so deliciously rich you'll just want to keep eating it. Not only are these little beauties tasty, but they also fall into the 'low fat' category, so if you are watching your waistline they could be the perfect treat to end your feasting.
Use ramekins or muffin moulds to create these wicked gems!
Ingredients
125g (1/2 cup) fresh dates, pitted and chopped
1/2 teaspoon bicarbonate soda
30g low-fat dairy spread
2 tablespoons brown sugar
1 egg
1 teaspoon vanilla essence
1/2 teaspoon ground cinnamon
1/2 teaspoon ground nutmeg
1 small carrot, grated
1/2 cup self-raising flour
20g walnuts, chopped finely
1 teaspoon pure icing sugar, to serve
150g tub light French vanilla Fruche, to serve
Method
1. Preheat oven to 190°C. Grease four 200ml-capacity ramekins or muffin moulds. Line each with baking paper.
2. Combine dates and 1/2 cup cold water in small saucepan over medium-high heat and bring to the boil.
3. Reduce heat to low and simmer for 2 minutes. Remove from the heat. Stir in bicarbonate of soda. Set aside to cool.
4. Using an electric mixer, beat spread and sugar until well combined. Add egg, vanilla essence, ground cinnamon and ground nutmeg and beat well. Stir in the carrot, walnuts if you are adding them and date mixture.
5. Sift flour over the mixture and stir gently to combine. Spoon into prepared ramekins (or moulds) and place on a baking tray. Bake for 15 to 20 minutes or until a skewer inserted into the centre comes out clean. Stand for 5 minutes.
6. Turn onto serving plates. Dust with icing sugar and serve warm with Fruche.
—————————————————–
If you'd like to see more recipes from Starts at 60, click here. And if you have a recipe you'd like to share with the Starts at 60 community – we'd love to share it! Submit them to us by completing the form below.
Submit your article here
Comments