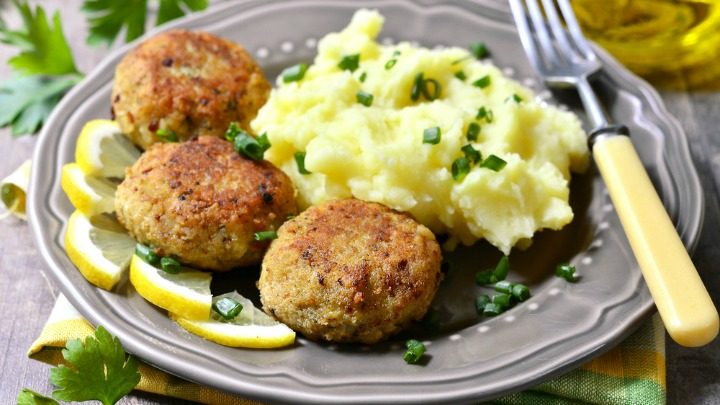 Tuna patties used to be staple in many Australian households and this recipe might just be even better than mum used to make them! Instead of throwing them straight in the pan, they are lightly crumbed before being fried up to create a lovely crispy coating. The cheddar cheese and dill are a perfect match with the tuna and make a delicious filling. Serve the patties with a dollop of mash potato and a squeeze of lemon juice for a tasty, cheap and cheerful dinner!
Ingredients
3 large desiree potatoes, peeled
2 x 425g cans tuna in springwater, drained
3 green onions, thinly sliced
1 1/2 cups coarsely grated cheddar cheese
2 tablespoons finely chopped dill
1 cup plain flour
1 1/2 cups dried breadcrumbs
3 eggs, lightly beaten
1/2 cup vegetable oil
Method
1. Place potato in a large saucepan. Cover with cold water. Bring to the boil over high heat. Reduce heat to medium. Cook, uncovered, for 10 to 12 minutes or until just tender. Drain. Transfer to a large bowl. Mash. Allow to cool. (You'll need 3 cups mashed potato.)
2. Add tuna, onion, cheese and dill to bowl. Season with salt and pepper. Stir until well combined. Using 1/4 cup of mixture at a time, shape into patties.
3. Place flour, breadcrumbs and egg in separate shallow bowls. Coat 1 pattie in flour, shaking off excess. Dip in egg. Coat in breadcrumbs. Place on a baking tray lined with baking paper. Repeat with remaining patties, flour, egg and breadcrumbs. Refrigerate for 30 minutes or until firm.
4. Heat half the oil in a large frying pan over medium heat. Add half the patties. Cook for 2 to 3 minutes each side or until golden. Repeat with remaining oil and patties.
—————————————————–
If you'd like to see more recipes from Starts at 60, click here. And if you have a recipe you'd like to share with the Starts at 60 community – we'd love to share it! Submit them to us by completing the form below.
Submit your article here
Comments