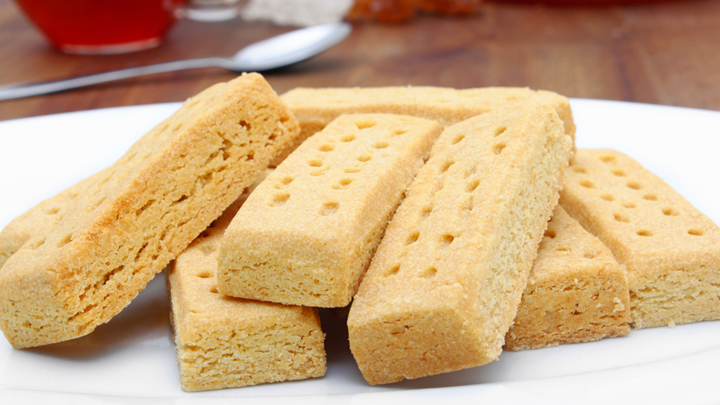 A neighbour of my mother-in-law gave the recipe to me in 1960 and it was over 150 years old then.
This tastes exactly like your Grandma and her mother's shortbread used to taste.
Enjoy!
Ingredients
7oz butter (220gm) – not margarine

4oz pure icing sugar (125gm) – do NOT use icing mix as this has cornflour in it.

10oz plain flour (315gm)

1/2 teaspoon salt

Glace cherries
Method
Line biscuit trays with greaseproof paper before you start.

Cream butter and (sifted) icing sugar with your hand.

Add (sifted) flour and salt, and mix well.

Knead on a board for 5 minutes (do not use extra flour).

Take a small handful of mix and roll into a 1″ (2cm) sausage, cut into about 1/2 -1cm slices with the back of a knife (not sharp side) this gives the rippled effect on the biscuit, place on trays.

Top with RED cherry pieces when biscuits on tray (1 cherry will cut into 8-12 pieces, depends on size of cherry, show outside of cherry on biscuit as the glaze looks nice).

Bake in a slow oven (about 160 degrees) for 20-30 minutes. If using double mix then you would need 3 trays. After about every 10 minutes I change the trays about in the oven. It takes longer to cook if you do double batches and you need to keep an eye on them as they should still look pale when cooked. They turn brown fairly quickly at the end. If you touch the biscuit you can tell when they are ready. 
I have sent the recipe in but forgot to add that the recipe calls for creaming the sugar and butter by hand. As I have arthritis in my hands now, I use the K beater of my Kenwood Chef. DO NOT use whisk beaters. I do double batches at a time and reap about 9 dozen shortbreads out of the double mix. I use 3 trays. I made 72 dozen this Christmas period, and gave nearly all of them away. I only make them at Christmas because they are so well liked and do not last. Keep them in an air tight container.
Thank you to Sylvia for sending this in!
—————————————————–
If you'd like to see more recipes from Starts at 60, click here. And if you have a recipe you'd like to share with the Starts at 60 community – we'd love to share it! Submit them to us by completing the form below.
Submit your article here
Comments