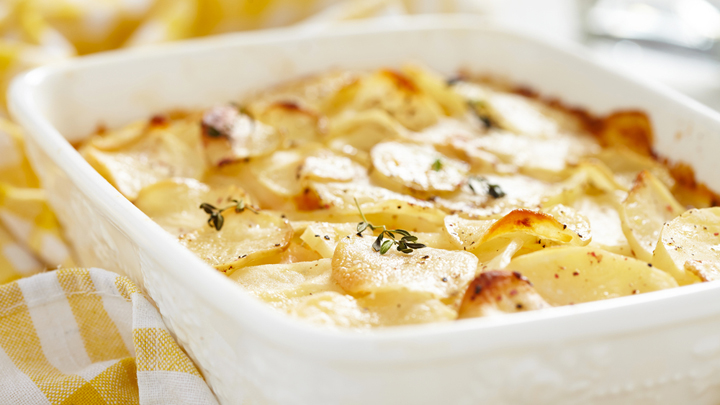 Do you remember that creamy potato bake that Grandma used to make? It was so delicious and always filled you up.
Well, we've got a classic recipe for you today, and it's just like the scalloped potatoes of the 60s.
Enjoy!
Ingredients
4 potatoes, peeled and thinly sliced
1 yellow onion, chopped
1⁄4 cup water
1⁄4 teaspoon each salt and black pepper
1⁄4 teaspoon celery seeds (optional)
11⁄2 cups low-fat milk
3 tablespoons all-purpose flour
2 tablespoons minced parsley
1⁄2 cup shredded reduced-fat cheddar cheese
Method
Cover the potatoes with water and bring to a boil over high heat. Lower the heat and simmer for 12 to 15 minutes or until potatoes are almost tender. Drain.
Preheat the oven to 180 degrees. In a small saucepan, combine the onion and the 1⁄4 cup water, bringing to a boil.
Lower the heat and simmer, covered, for 5 minutes or until tender. Drain. Stir in the salt, pepper, and celery seeds.
In a small bowl, whisk together the milk and flour. Stir into the onion mixture. Cook over moderate heat, stirring until the mixture starts to thicken. Cook and stir for 2 minutes or until thickened. Stir in the parsley.
Place half of the potatoes in a lightly greased casserole dish. Cover with half of the milk mixture. Add the remaining potatoes and remaining milk mixture.
Bake for 20 minutes or until heated through. Sprinkle with cheese!
—————————————————–
If you'd like to see more recipes from Starts at 60, click here. And if you have a recipe you'd like to share with the Starts at 60 community – we'd love to share it! Submit them to us by completing the form below.
Submit your article here
Comments