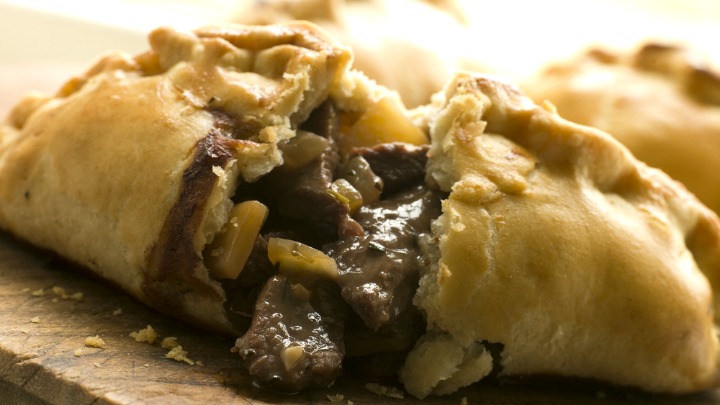 These pasties are super delicious and have the best chunky steak filling! The meat is so soft and tender when they come out of the oven, while the potato and swede add that hearty flavour you're looking for in a pasty. This recipe uses ready-made shortcrust pastry, so you don't have to worry about the fuss of making your own. Serve them up on their own or with a side of veggies for a filling and comforting meal.
Ingredients
350g beef skirt or chuck steak, finely chopped
1 large onion ,finely chopped
2 medium potatoes, peeled, thinly sliced
175g swede, peeled, finely diced
1 tbsp freshly ground black pepper
Ready-rolled shortcrust pastry, partially thawed
Method
2. Heat oven to 220C/fan 200C/gas 7. Mix together the filling ingredients with 1 tsp salt. Cut pastry into rounds about 23cm across – use a plate to trim it to shape. Firmly pack a quarter of the filling along the centre of each round, leaving a margin at each end. Brush the pastry all the way round the edge with beaten egg, carefully draw up both sides so that they meet at the top, then pinch them together to seal.
3. Lift onto a non-stick baking tray and brush with the remaining egg to glaze. Bake for 10 mins, then lower oven to 180C/fan 160C/gas 4 and cook for 45 mins more until golden. Serve.
—————————————————–
If you'd like to see more recipes from Starts at 60, click here. And if you have a recipe you'd like to share with the Starts at 60 community – we'd love to share it! Submit them to us by completing the form below.
Submit your article here
Comments