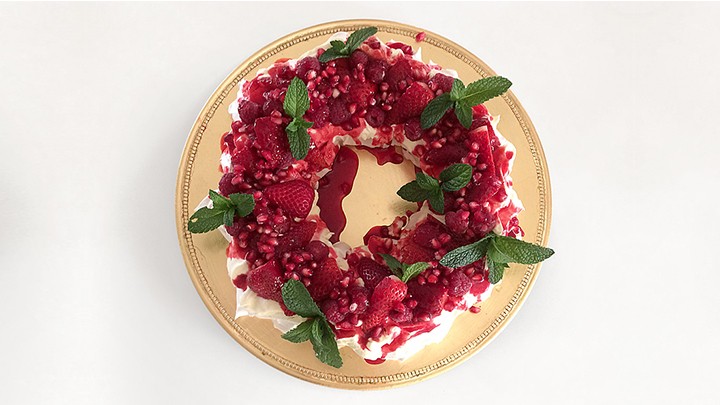 Looking for a Christmas dessert to impress your family and friends? Look no further! This Christmas pavlova wreath is a delicious twist on an Aussie classic.
Tempted to try this decadent dessert? Be sure to take a photo!
Share it via the form below to enter the running for Gold Class movie tickets!

This recipe and competition are brought to you by Stockland Retirement Living.
Serves: 8-10
Ingredients
4 egg whites, room temperature
1 cup caster sugar
1 tsp white vinegar
1 tsp vanilla bean extract
1 tbsp cornflour
300ml fresh cream, whipped
250g fresh strawberries, hulled and quartered
125g fresh or frozen raspberries
1 pomegranate
fresh mint to garnish
For coulis:
1/4 cup caster sugar
125g frozen raspberries
1 lemon, juiced
Directions
Step 1
Preheat oven to 120C, or 100C for a fan-forced oven. Line a tray with a sheet of baking paper. Use a 25cm round baking tin to trace a large circle on the baking paper, then draw another 15cm-wide circle inside the larger circle.
Step 2
Beat the egg whites with an electric mixer until soft peaks begin to form. Slowly add the sugar, a small amount at a time, until the meringue mix is stiff and shiny.  Add cornflour, vinegar and vanilla bean extract and fold in lightly.
Step 3
Using a dessert spoon or wooden spoon, scoop a large dollop of meringue mix onto the tray, between the larger and smaller circle. Repeat this until the ring is complete, then create a second layer following the same process. Smooth the top with the spoon. Place the wreath in the oven for 2 hours.
To help avoid your meringue cracking or collapsing turn off the oven after 2 hours and open the door slightly. Leave the meringue in the oven until completely cool.
Step 4
Make your couli by blending the frozen raspberries, sugar and lemon juice until it is a smooth consistency. Put to the side in a pouring jug.
Step 5
Move the wreath to a serving dish and dress it with whipped cream.  Drizzle on coulis, and then decorate with fresh berries, pomegranate and mint. Serve straight away for a delicious and fresh Christmas dessert.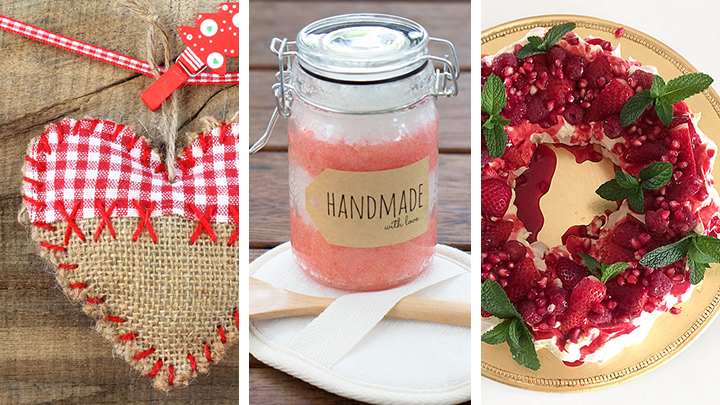 Share your Christmas craft to win!
To enter Stockland's Christmas Craft Competition, simply fill out the form below by December 13, 2015. Attach a photo of your craft and tell us what it means to you (and if you want, give us instructions on how to make it to have it featured on the site). 
Five winners will receive 2 x Gold Class movie tickets. We can't wait to see your wonderful work!


Click here to read the Terms & Conditions.
Comments