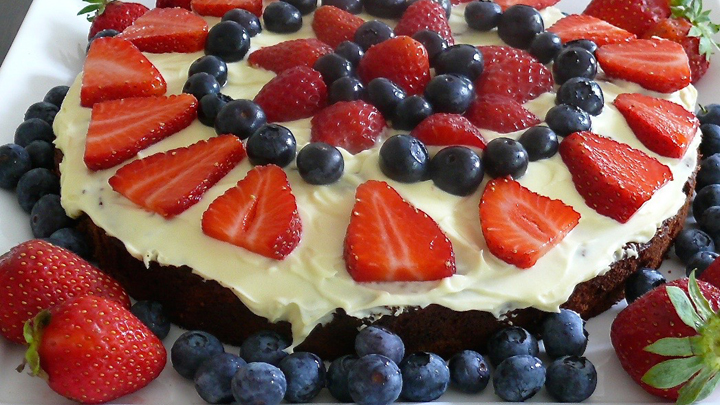 This cake not only looks and taste delicious it is really simple and easy to make. The great bonus is that because it is flourless, it's grain, gluten and refined sugar free. To make it dairy free, change the Mascarpone cream for some chilled whipped coconut cram.
You can dress it up to make it a dinner party dessert, or alternatively leave the top plain for an everyday slice to have with coffee.
The cake serves 8 – 10.
Ingredients
2 oranges

10 medjool dates – pits removed and chopped finely*

5 free range eggs

1 tsp vanilla essence

225g almond flour or blanched almond meal

1/4 cup cocoa – sifted

1 tsp baking powder

1/2 tsp baking soda

200g Mascarpone cream

Strawberries and blueberries to decorate.
Method
Place oranges in a pot of water, bring to the boil then turn down the heat and simmer for 1 hour, remove from water and cool.

Preheat oven to 170C/350F.

Line the bottom of a 23cm/9in springform baking pan (or smaller if you want a thicker cake), and grease the sides with butter.

Cut cooled oranges into quarters and place in food processor, blitz until smooth.

Add eggs and vanilla and process to mix.

Sift the cocoa and mix in the rest of the dry ingredients.

Add this to the orange/eggy mix and process until well combined.

Spoon into baking pan and smooth the top.

Bake for 25 to 30 mins or until a fork comes out clean.

Cool the cake in the pan on a wire rack for 10 -15 mins.

Run a knife around the edge of the cake in the pan then undo the clip and carefully lift the cake back onto the wire rack.

When cool cover the cake with the Mascarpone Cheese and decorate with your favourite berries.

Store in an airtight container in the fridge for up to 5 days – if that is possible!

Freeze un-iced cake for 1 month
Comments