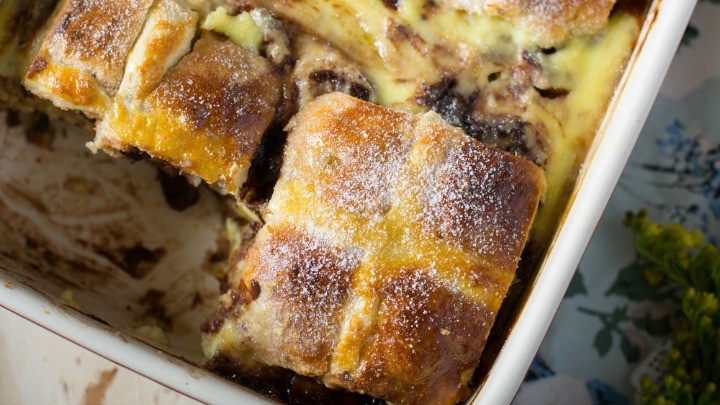 If you find yourself with leftover hot cross buns after Easter, you're in luck! This delicious recipe is the perfect way to use up the buns and finish the easter season with a bang! Serve it drizzled with cream or a scoop of vanilla ice cream and a nice cuppa!
Ingredients
6 hot cross buns (any flavour)
30g unsalted butter, softened
130g roughly chopped good-quality dark chocolate
1 vanilla bean, split, seeds scraped
600ml light cream
600ml thickened cream, plus extra to serve (optional)
Zest of 1 orange
4 eggs
170g caster sugar
1/4 cup (60ml) brandy (optional)
Icing sugar, to dust
Method
1. Split the hot cross buns and butter each half. Lay the bases in a 2-litre (8-cup) baking dish, sprinkle with the chopped dark chocolate, then place the bun tops on the bases.
2. Place the vanilla pod and seeds in a saucepan with the creams and zest, and heat over low heat until just simmering. Remove from the heat.
3. Beat the eggs, sugar and brandy until just combined, then pour into the warm cream, stirring continuously. Strain the custard evenly over the buns and set the pudding aside for 30 minutes for the buns to soak up some of the custard. (The pudding can be prepared to this stage several hours in advance and refrigerated – just bring to room temperature before baking.)
4. When ready to cook, preheat the oven to 170°C.
5. Place the pudding dish in a large roasting pan and pour enough boiling water into the roasting pan to come halfway up the sides of the pudding dish. Place in the oven for about 45 minutes or until the custard is set. Dust with icing sugar and serve with extra cream if desired.
———————————————————-
If you'd like to see more recipes from Starts at 60, click here. And if you have a recipe you'd like to share with the Starts at 60 community – we'd love to share it! Submit them to us by completing the form below.
Submit your article here
Comments