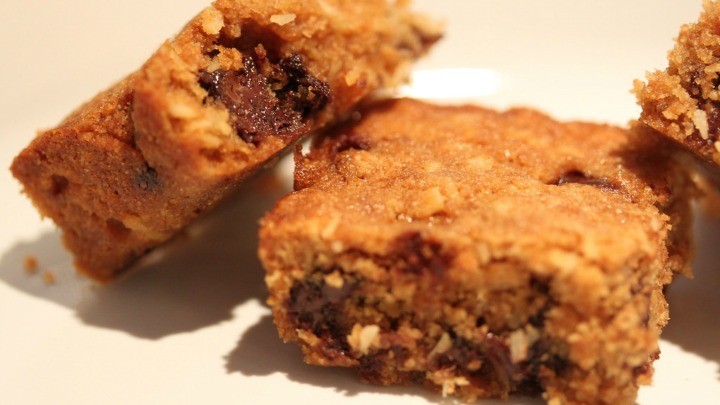 Blondies are one of those amazing and versatile slices that seems to have been around forever. You can make all kinds of variations to the basic recipe, from butterscotch and peanut to coconut and macadamia; this version with chocolate chips and crunchy pecans is a total winner though. The batter is easily put together in one bowl and about 30 minutes later you can sit down with a warm slice and a cup of tea!
Ingredients
1/2 cup unsalted butter, melted
1/2 cup packed brown sugar
1/3 cup white sugar
1 large egg
1 1/2 teaspoon vanilla extract
1 cup plain, spooned into measuring cup and levelled-off
1/2 teaspoon salt
3/4 cup dark chocolate chips
1/2 cup chopped pecans (optional)
Method
1. Preheat the oven to 180℃. Spray an 20cm square baking tray with non-stick cooking spray, then line the tray with a baking paper, leaving a 5cm overhang on two sides. Spray the paper with non-stick cooking spray.
2. In a large bowl, beat the melted butter with the sugars until well combined, about 2 minutes. Beat in the egg and vanilla. On low speed, mix in the flour and salt until just blended (do not over-mix). Gently stir in the chocolate chips and nuts. Transfer the batter to the prepared tray.
3. Bake for 25-30 minutes, until the top is lightly golden and a toothpick inserted into middle comes out relatively clean (ignore any melted chocolate). Set the pan on a wire rack and cool completely. Using the baking paper overhang, lift the blondie cake from the pan and transfer it to a cutting board; cut into 16 squares.
—————————————————–
If you'd like to see more recipes from Starts at 60, click here. And if you have a recipe you'd like to share with the Starts at 60 community – we'd love to share it! Submit them to us by completing the form below.
Submit your article here
Comments