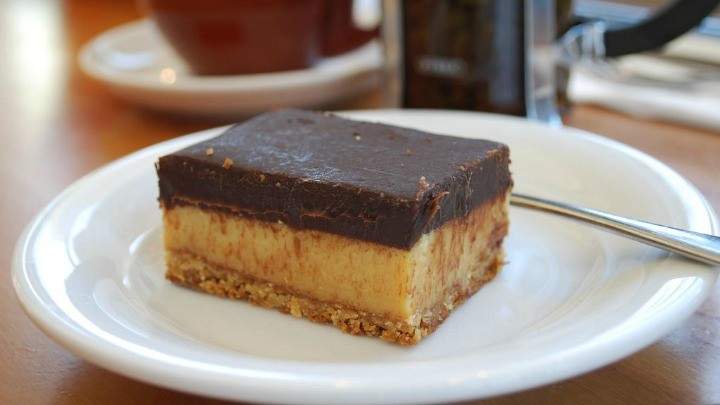 The invention of the ANZAC biscuit has long been contested with both Australia and New Zealand claiming the title. Whatever the truth though, the biscuit has well and truly earned its place as the official biccie to dunk into your tea on ANZAC day. Legend has it they were invented by the wives of soldiers who sent them to their husbands fighting abroad as the ingredients were hardy and didn't spoil easily. The recipe first appeared in the War Chest Cookery Book in 1917 and in the early years was also referred to as 'Rolled Oat Biscuits' and 'Soldier's Biscuits'. This recipe is a twist on the original, with caramel and chocolate layers resting on top of the ANZAC biscuit base. It's rich and gooey so serve it up in small squares with a fresh pot of tea and raise your cup to all our soldiers who served and fought to protect our shores.
Ingredients
ANZAC Biscuit Base
125g butter
4 tbsp golden syrup
¼ tsp of baking soda
1 tbsp boiling water
1 cup rolled oats
1 cup plain flour
½ cup brown sugar
¾ cup desiccated coconut
Caramel Filling
400g can sweetened condensed milk
130g butter
⅓ cup caster sugar
⅓ cup golden syrup
Topping
200g dark chocolate buttons
1 tbsp melted butter
Method
ANZAC Biscuit Base
1. Preheat the oven to 160°C and line a 20cm x 20cm square tin with baking paper. Melt together the butter and golden syrup in a saucepan over a low heat.
2. In a large bowl, combine oats, flour, brown sugar and coconut. Dissolve the baking soda in the boiling water, add to saucepan.
3. Combine liquid and dry ingredients, then press the biscuit mixture into the bottom of the tin and bake in the oven for around 15 mins or until lightly golden brown. Allow to cool whilst you make the caramel filling.
Caramel Filling
1. Mix together the condensed milk, butter, sugar and golden syrup in a saucepan over a low heat. Stir for 15 minutes until the mixture becomes a darker golden colour and thick. Do not leave unattended as it can burn.
2. Let the caramel cool slightly before pouring into the tin over your ANZAC biscuit base. Transfer to the fridge to set.
Topping
1. Melt dark chocolate and butter in microwave or in a small saucepan over low heat. Pour over the caramel and allow to set before cutting into squares.
—————————————————–
If you'd like to see more recipes from Starts at 60, click here. And if you have a recipe you'd like to share with the Starts at 60 community – we'd love to share it! Submit them to us by completing the form below.
Submit your article here
Comments