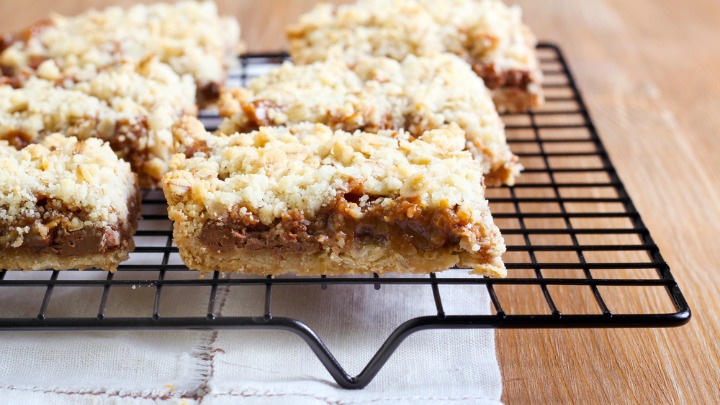 There are a lot of great slice recipes out there, but this one has to come in somewhere in the top 10 – it's that good! The layers of oat, chocolate and caramel work perfectly together and the a pinch of salt added towards the end cuts through some of the sweetness and balances the flavours so they're just right. Slice it up into squares and store in an airtight container for up to five days – if they last that long!
Ingredients
440g individually wrapped caramels
3 tablespoons milk
190g margarine
1 cup (125g) plain flour
1 cup (150g) rolled oats
3/4 cup (125g) packed brown sugar
1/2 teaspoon bicarb soda
1/4 teaspoon salt
1 cup dark chocolate chips
Method
1. Preheat oven to 180 degrees C. Peel the plastic wrapping from the caramels and melt them in a saucepan over medium heat along with the milk. (If using a microwave, use a large, microwave-safe bowl, melt the caramels and milk in the microwave at medium power for 2 to 3 minutes, checking every 20 to 30 seconds.) Stir and set aside.
2. Melt the margarine and combine with flour, oats, brown sugar, bicarb soda and salt.
Press slightly more than half the oat mixture into a greased 20x30cm pan. Sprinkle chocolate chips on top of the mixture, then pour the caramel over the chips. Top with remaining oat mixture.
3. Bake for 20 minutes; cool. Cut into bars.
—————————————————–
If you'd like to see more recipes from Starts at 60, click here. And if you have a recipe you'd like to share with the Starts at 60 community – we'd love to share it! Submit them to us by completing the form below.
Submit your article here
Comments