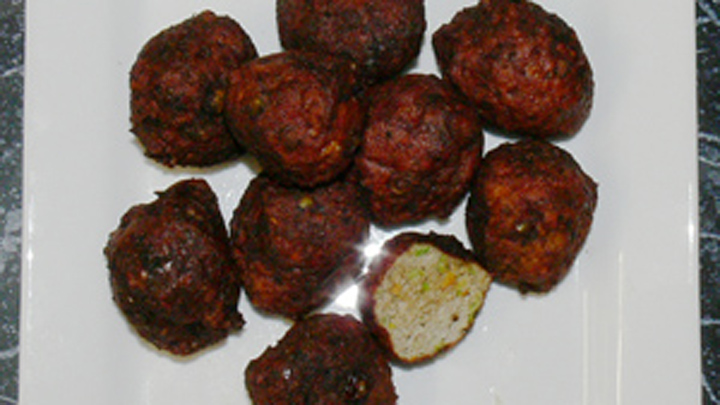 Yum! These chicken vegeballs are low fat and sugar free with exceptional flavour… plus they taste amazing.
These vegetable meatballs can be added to spaghetti or served with a warm homemade tomato sauce, or alternatively a yoghurt and mint sauce.
Preparation Time: 5-10 minutes
Cooking Time: Forming balls and cooking 30 – 40 minutes.
Serves: 20-40 balls depending on volumes
Ingredients
500g Mince (Pork, Lamb, Beef or Chicken)

3 eggs

I onion

2 cups of frozen mixed vegetables

1 ½ garlic clove

¾ cup breadcrumbs

Spice (see below)

Salt
Pepper Technique:
1. Blend the frozen vegetables and onion in a blender to form a fine grated texture.
2. Mix in meat, flour, breadcrumbs and eggs to a consistent paste preferably a bit wet. Add spices salt and pepper.
3. Form into balls and cook in very hot oil for 5-6 minutes.
4. Drain immediately and store batch on kitchen paper.
Spice:
A variety of spices can be added depending on preferred taste.
I add cumin, cayenne pepper, cinnamon, all spice or mixed herbs to suit. NOT all at once but in different batches.
Be a bit inventive and you will come up with really interesting flavours.
Italian Flavour: Add Oregano 1 teaspoon to the mixture with ½ cup parmesan cheese and some tomato paste (2 tablespoons)
Asian Flavour: Add five spice about 1 teaspoon to ½ above mixture with two tablespoons dark soy. (Omit salt!)
Curry Flavour: Add 1-2 tablespoons curry powder depending on how strong you like your curry.
Pure Vegetarian: Leave out the meat and increase the frozen mixed vegetables by an equivalent amount. Serve:
With sauce or plain – can be eaten hot or cold – served with salads – a very versatile dish. Can be reheated and served after storage in the refrigerator for several days – could possibly be frozen.
Variations:
Coat with egg and black pepper mixture

Add chilli to make "hot" vegetable meatballs

Add Tabasco or cayenne pepper to increase "hotness"
Dipping sauces:
Match to spice added to mixture for best flavour effect.
Thanks to Richard for sending this through.
Comments