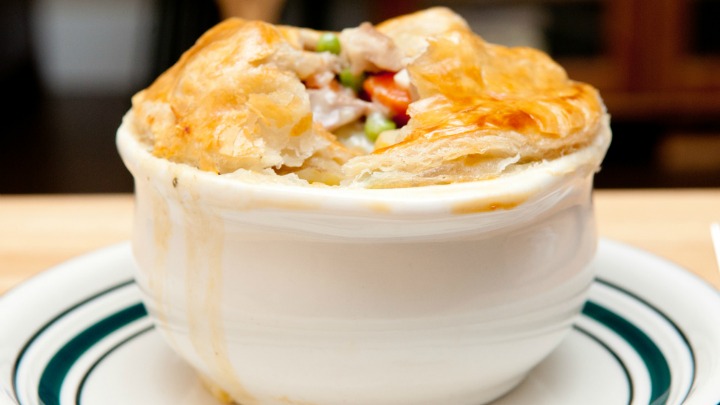 The flavours in this pie are absolutely wonderful! The chicken mixture is cooked up first to allow all the veggies to infuse their flavours into it, then the sauce is made separately and poured over the chicken right before you put it in the oven. The pastry on top is golden and crunchy when it comes out of the oven and the smell of the pie wafting through the house is seriously good! You can divide the pastry and the mixture into individual ramekins so everyone has their own pie, or make it in one big dish and let everyone serve themselves. Yum!
Ingredients
450g skinless, boneless chicken breast or thigh halves – cubed
1 cup sliced carrots
1 cup frozen green peas
1/2 cup sliced celery
1/3 cup butter
1/3 cup chopped onion
1/3 cup plain flour
1/2 teaspoon salt
1/4 teaspoon black pepper
1/4 teaspoon celery seeds
1 3/4 cups chicken stock
2/3 cup milk
1 sheet short crust pastry
1 sheet puff pastry
1 egg, whisked, for brushing
Method
1. Preheat oven to 220ºC. In a saucepan, combine chicken, carrots, peas, and celery. Add water to cover and boil for 15 minutes. Remove from heat, drain and set aside.
2. Place shortcrust pastry into the pie dish or ramekins and cover with baking paper, then top with baking beans or rice. Blind bake for 15 mins then remove beans or rice and baking paper and bake for another 5 minutes until golden. Remove from oven and set aside.
3. In another saucepan over medium heat, cook onions in butter until soft and translucent. Stir in flour, salt, pepper, and celery seed. Slowly stir in chicken stock and milk. Simmer over medium-low heat until thick. Remove from heat and set aside.
4. Spoon the chicken mixture on top of shortcrust pastry in pie dish or ramekin . Pour hot liquid mixture over. Cover with layer of puff pastry, seal edges, and cut away excess overhanging. Brush pastry with egg and make several small slits in the top to allow steam to escape.
5. Bake for 30 to 35 minutes, or until pastry is golden brown and filling is bubbly. Cool for 10 minutes before serving.
—————————————————–
If you'd like to see more recipes from Starts at 60, click here. And if you have a recipe you'd like to share with the Starts at 60 community – we'd love to share it! Submit them to us by completing the form below.
Submit your article here
Comments