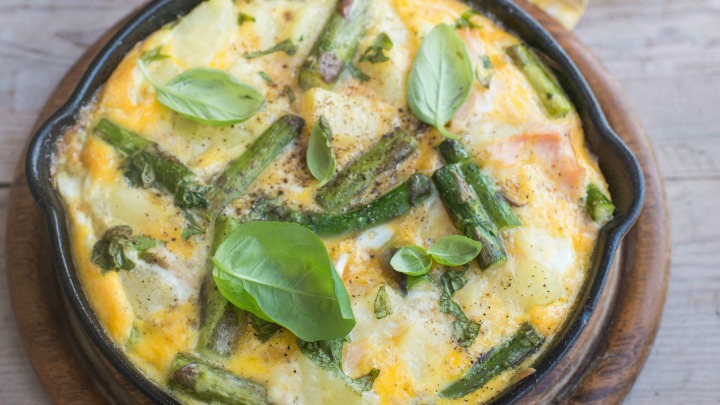 Talk about a dinner winner! This tasty frittata is an easy and delicious meal to whip up any night of the week – and if you've got leftovers it makes a great lunch the next day! It's super easy to to throw together and the best thing is you can add whatever you've got in the fridge to mix it up every time. Try mushrooms, baby spinach or even sun-dried tomatoes and olives if you've got them on hand.
Ingredients
20g butter
1 large brown onion, finely chopped
2 garlic cloves, finely chopped
8 eggs
1/3 cup pure cream
1/2 cup chopped fresh herbs (such as parsley, basil and dill)
2/3 cup finely grated parmesan cheese
2 bunches asparagus, trimmed, cut into 4cm lengths
60g goat's cheese, crumbled
Method
1. Melt butter in a 22cm (base) heavy-based, flameproof, non-stick frying pan over medium-low heat. Add onion and garlic. Cook, stirring occasionally, for 8 to 10 minutes or until onion is golden.
2. Meanwhile, whisk eggs, cream, chopped herbs and 1/2 cup parmesan in a jug. Season with salt and pepper.
3. Preheat grill on medium-high. Add asparagus to pan. Cook, stirring, for 5 to 6 minutes or until bright green and just tender. Pour egg mixture over asparagus mixture. Lift and tilt pan to distribute egg mixture. Reduce heat to low. Sprinkle goat's cheese and remaining parmesan over top. Cook for 10 minutes or until almost set.
4. Place pan under grill. Grill for 3 minutes or until set and golden. Stand for 3 minutes. Loosen frittata with a spatula. Slide onto a plate.
ENJOY!
This Spring, Stockland is proud to be partnering with Jamie's Ministry of Food and local chefs around the country to bring you live cooking demonstrations right from the heart of their villages.
Click here to RSVP for an upcoming Spring Cooking Demonstration and Open Day, or call 1800 72 71 70 to arrange a visit at a preferred time. Not sure where the your nearest Stockland village is? Click here to find out.
Stockland warmly invites you to stop by your local village and see first-hand the wonderful freedom and peace of mind it can offer. Family members are welcome too! Click here to learn more.
Comments