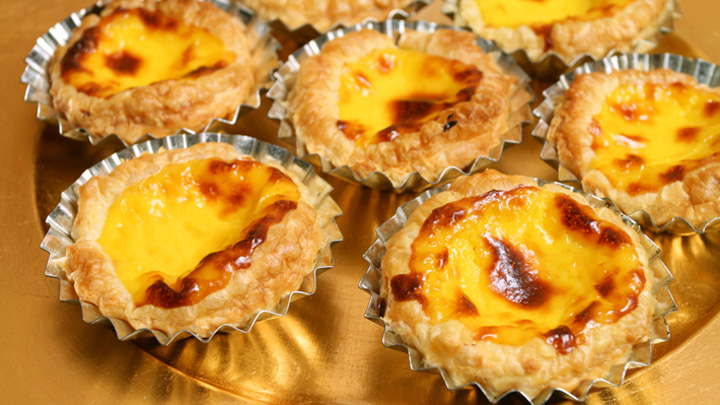 Portuguese tarts are such a classic recipe but not always as easy as they look. Luckily, we've got the cheat's recipe to making the tastiest tarts ever!
To get the correct texture, you need to essentially ruin your pastry – don't worry, it'll work out fine.
Flour, for dusting
1 x 375g packet pre-rolled puff pastry
3 egg yolks
225g crème fraîche
1 tsp vanilla essence
Zest of ½ orange
5 tbsp sugar
Ground cinnamon, to dust
Method
Preheat the oven to 180C.
Lightly dust a work surface and lay out the pastry. Starting from the longer edge, roll the pastry into a long, tight sausage, then cut it into 12 equal-sized pieces. Squash each piece into a circle.
With a rolling pin, roll into 10cm discs and place each disc in a 12-hole muffin tin, pressing and stretching the pastry with your fingertips around the sides of the hole so the pastry comes just above the edge.
Be sure to prick the pastry a few times with a fork, then place in the oven for 8-10 minutes, until the pastry is golden and cooked through.
While that's cooking, combine the yolks, crème fraîche, vanilla, zest and sugar in a bowl.
Remove the pastry from the oven and flatten the pastry back against the sides. Spoon in the custard mixture, making sure you don't overfill.
Sprinkle over a little cinnamon, then return the tray to the oven and cook for another 8-10 minutes, until the filling has set slightly. Remove, and leave to cool before serving.
Comments