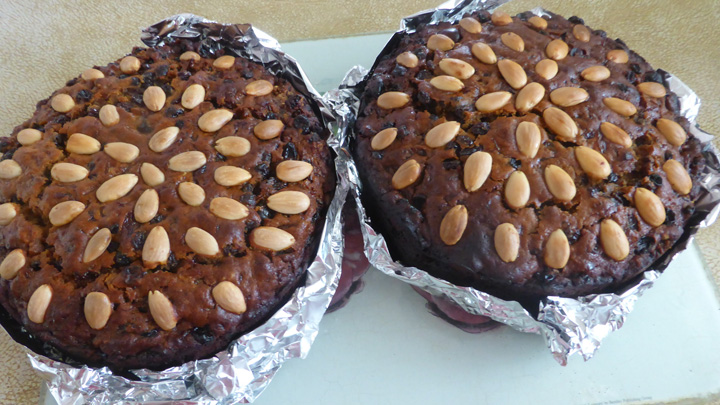 This cake keeps very well if allowed and not devoured on sight! I make 6 – 8 every year and have done for the best part of 40 years – mostly as gifts – the recipients have now come to expect them. The recipe has been tweaked over the years and is very forgiving.
I know there are some imperfections evident in the cakes in the photo but I go by the Persian carpet weavers' belief that only God is perfect so they made deliberate mistakes so as not to offend the Almighty: I can make imperfections without even trying!
Ingredients
500gm mixed fruit

1 pkt glace cherries (added to the original recipe when mixed fruit began to leave out cherries)

450gm tin crushed pineapple with the juice (I prefer the one in juice rather than in syrup)

125gm butter

Half cup raw sugar

1 rounded teaspoon mixed spice

1 rounded teaspoon bicarb soda
Method
Put all of your ingredients into a large saucepan.

Bring slowly to a simmer and stir to avoid burning in the pan, simmer for ~ 5 minutes to allow the butter and sugar to melt and the bicarb makes a nice foamy lather; then remove from heat and allow to cool.

When cool mix in 2 large eggs, 1 cup plain and 1 cup SR flour; mix well together.

Grease an 8 inch (21cm) cake time; line the base with baking paper. Pour in mix and decorate  with blanched almonds.

Cook at 180 degrees (160 FF) for 45 minutes. remove from oven and cover the top lightly with foil to prevent burning; return to oven for a further 45 minutes or until tested for 'doneness' with a cake skewer. 

Allow to cool in tin before turning out.
Comments