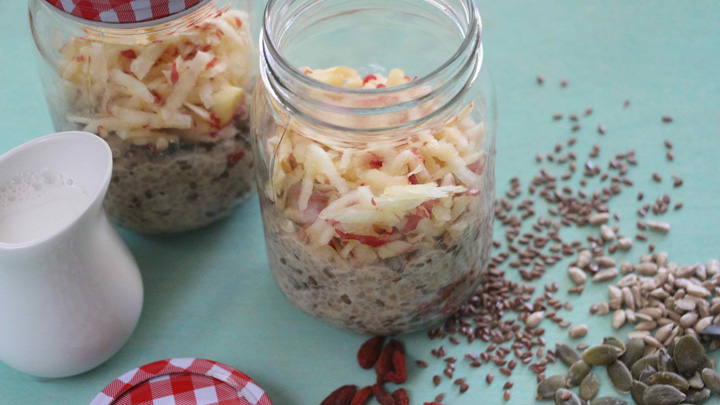 This dish is perfect if you don't have much time in the morning. Simply prepare the night before and it's ready for you the next day! Bircher muesli packs a nutritional punch, is low in sugar and easy on your digestion.
Already soaked, it keeps in the fridge for app. 4 days. Alternatively, store a large jar of dry mix in the pantry and soak one serve the night before.
Chia seeds are high in fibre and also pack an impressive dose of plant-based omega-3 (ALA).
Oats have been shown to have a cholesterol lowering effect, improve endothelial function and to reduce blood pressure. They contain soluble fibres and several antioxidants including vitamin E, phytic acid, phenolics, and avenanthramides, unique soluble bioactive compounds not present in any other cereal grain. In addition to their antioxidant activities, oat avenanthramides possess antihistamine and anti-inflammatory properties.
Linseeds are the richest source of the plant omega-3 fat alpha-linolenic acid (ALA) which are converted to the long chain omega-3 fatty acids (DHA and EPA). Long chain omega-3s have the best therapeutic benefits for people with inflammatory types of arthritis such as rheumatoid arthritis, reactive arthritis, psoriatic arthritis and ankylosing spondylitis.
Sesame seeds, pumpkin seeds and sunflower seeds provide good helpings of healthy fats, as well as decent doses of several important vitamins and minerals.
This recipe has been created by Wellvess Arthritis Programs. Our programs are packed with delicious anti-inflammatory recipes, cooking tips, latest research on supplements, exercise tips and a forum to connect with others. We also have a free monthly newsletter with lots of information.
Serves: 4
Prep time: 10 mins
Soaking time: 2 hours (min.) – overnight
Ingredients
1 cup oats
4 tablespoons chia seeds
1 tablespoon pumpkin seeds
1 tablespoon sunflower seeds
1 tablespoon sesame seeds
2 tablespoons linseed
3 cups almond or rice milk
1 tablespoon maple syrup (or honey)
1 tsp vanilla extract
Squeeze or two of lemon juice
1 tsp of ground cinnamon
1/3 cup cranberries or goji berries
2 apples, grated (skin on) – grate on the day you eat it & use half an apple per serve
Chopped nuts/coconut flakes as topping (optional)
Utensils
Bowl or individual glass jars
Preparation
At least two hours or ideally the night before, mix oats, all seeds, milk, maple syrup, vanilla, cinnamon, cranberries and lemon juice in a bowl or individual glass jars. Cover and pop into the fridge.
In the morning, add ½ grated apple to one serve of the mix, fold through and sprinkle with some extra cinnamon.
Top with chopped nuts and/or coconut flakes for extra crunch.
Variations
For a gluten free version use quinoa flakes instead of oats
Vary the seeds & dried fruit for different flavours
Add a little coconut milk
Comments