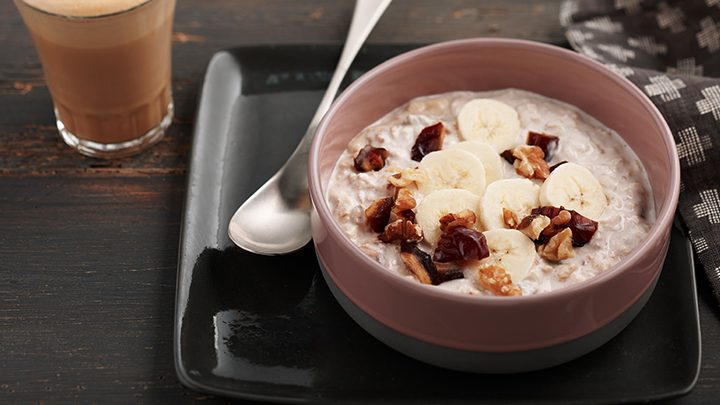 Whip up this amazing breakfast the night before and wake up to a delicious and healthy meal to kick start your day. Oats are full of fibre and have a low GI index, so they fill you up for longer and will have you bouncing around the room with energy! Skip the sugar and use dates to naturally sweeten the oats and add a beautiful and rich flavour. We've finished the lot off with a sprinkling of banana and walnuts, but you can use whatever fruit and nuts you like. Try strawberries and almonds, or apple and pecan to get you started. Enjoy!
Serves: 2
Ingredients
1 cup rolled oats
1 cup milk
1 cup Greek style yoghurt
2 bananas
6 fresh dates, sliced
2 tablespoons toasted walnuts
Method
Mash one banana in a bowl and combine with 4 of the sliced dates, oats, milk and yoghurt. Refrigerate overnight or until the oats have absorbed the liquid and become thick.
Divide oats into two bowls. Slice remaining banana and scatter over oats with remaining dates and walnuts.
Tips
If oats are a little chilly, give a quick blast in the Microwave for 20 seconds to take the edge off.

This recipe was originally published by The Dairy Kitchen. For more healthy and delicious dairy recipes, please visit the Dairy Kitchen website or follow them on Facebook.
Comments