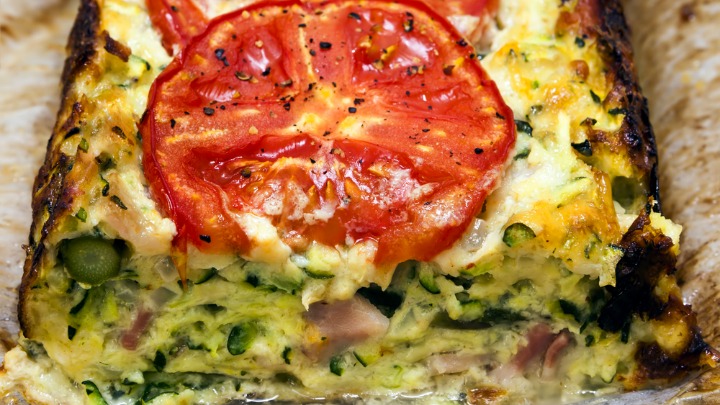 There are countless recipes for bacon and zucchini slices out there, but this one sure takes the cake as one of the best! It's packed full of veggies so you can knock a few off your daily intake list, which is good news for everyone! The bacon and cheese give it the perfect amount of salty, savoury flavour a slice like this needs and it's sure to have you going back for seconds. Serve on its own or with a simple side salad for a lovely light meal.
Ingredients
5 egg
1/2 cup oil
1 zucchini finely grated
1 onion finely grated
1/2 cup frozen peas, thawed
4 mushrooms sliced
420 g cream-style canned corn
1 cup self-raising flour
3/4 cup milk
1 pinch mixed herbs
3 bacon rashers, chopped, fried
2 tomato sliced
3/4 cup cheese grated
Method
1. Beat eggs in a large bowl, and mix in oil. Add vegetables, except mushrooms, and mix. Stir in flour and mixed herbs. Add milk and stir. Add mushrooms and bacon and stir gently.
2. Pour into greased lasagne dish or loaf pan. Top with sliced tomato, then sprinkle over chopped bacon and grated cheese. Bake at 180°C for 45–50 minutes. Serve!
—————————————————–
If you'd like to see more recipes from Starts at 60, click here. And if you have a recipe you'd like to share with the Starts at 60 community – we'd love to share it! Submit them to us by completing the form below.
Submit your article here
Comments