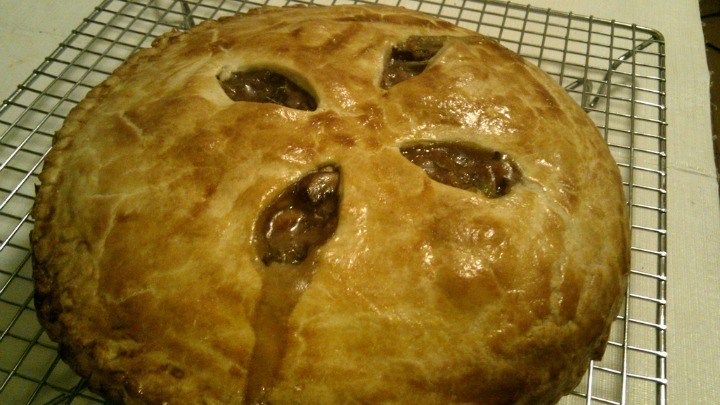 This amazing recipe was found on a piece of paper left behind on a train seat in Britain! A lucky commuter found it on a scrawled on a scrap piece of paper and decided to give it a try when they got home. The end result turned out to be the best Steak and Guinness pie they had ever made and they haven't looked back since. Serve it up with a generous helping of mash potatoes and steamed greens and dig in!
Ingredients
675g diced braising steak
Salt and freshly ground pepper
2 heaped teaspoons of plain flour
2 tablespoons olive oil
2 cloves of garlic
1 onion, peeled and diced
1 carrot, peeled and diced
4 sticks of celery, diced about 15cm each
1 small handful of fresh herbs (rosemary, thyme, and bay leaf)
1 500ml bottle of Guinness
2 400g tins of chopped tomatoes
1 500g packet of puff pastry
1 egg, beaten
Method
1. Season your beef well with the salt and pepper to taste, sprinkle with flour and toss around until coated. Heat the olive oil in a large pot and fry meat until well browned.
2. Add the garlic and onion and fry for one more minute, then add celery, carrots and fresh herbs. Cook for a further 5 minutes then pour in the Guinness. Add the tinned tomatoes; bring to the boil. Stir well, then simmer for 2 hours or until the meat is tender. The sauce should be nice and thick with a seriously tasty flavour. Season with salt and pepper.
3. To make the pies, preheat the oven to 190 degrees. Roll out pastry and line the baking dish or ramekins, making sure the pastry is slightly bigger than the circumference of the dish or ramekins. Fill with the meat filling.
4. Brush the rims of your dish or ramekin with beaten egg, then top with a circle of pastry large enough to cover the pie, squashing the extra pastry on the outside of the dish to secure. Lightly score the top of the pastry in a criss-cross fashion and brush with more egg.
5. Place on a baking tray (to catch the drips) and bake in the middle of the preheated oven for 45 minutes until golden and bubbling.
Let it cool down for 10 minutes before you dig in.
Comments