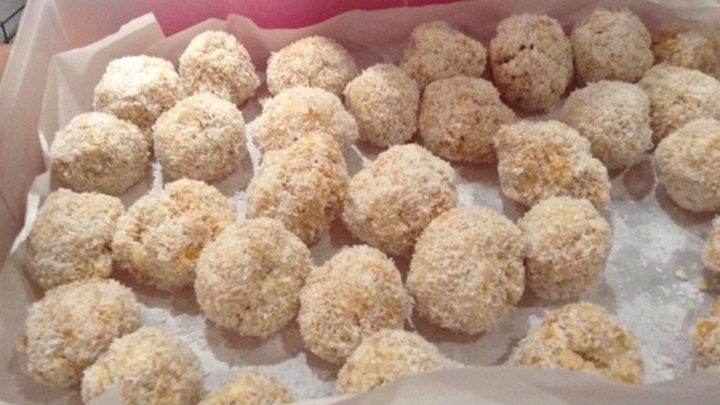 These delicious apricot snacks have become a wonderful Christmas tradition for my children and grandchildren alike. We'll make up a huge batch at the start of every visit, then slowly work through them over the days to follow.
Ingredients
1 packet plain sweet biscuit (milk arrowroots are ideal)
1 can sweetened condensed milk
20 dried apricots – approximately
1 cup desiccated coconut
Method
Place the biscuits in a plastic bag and use a rolling pin to roll them out until they are fine crumbs and pour into a mixing bowl.
Using a pair of kitchen scissors, cut the dried apricots into small pieces and add to the mixing bowl.
Pour the condensed milk and 3/4 cups of the coconut into the mixing bow.
Mix well until the mixture is thick and sticking together.
Take a spoonful of the mixture onto a board covered with the remaining coconut and roll into a small ball.
Place into a container lined with baking paper and continue until the mixture is all used.
Refrigerate for 30-60 minutes and enjoy!
If you'd like to see more recipes from Starts at 60, click here. And if you have a recipe for the Starts at 60 community – we'd love to share it! Simply fill in the form below.
Submit your article here
Comments