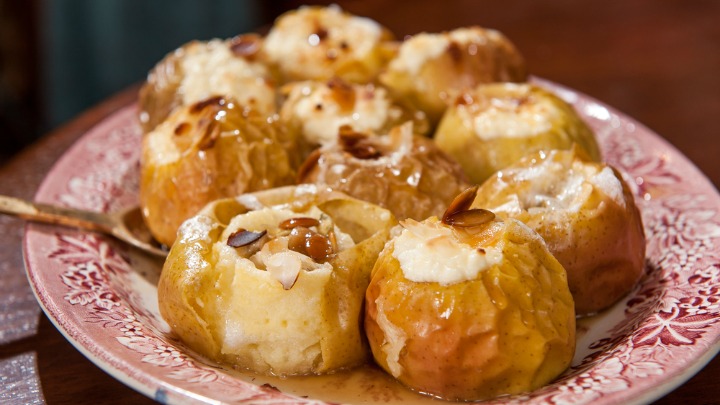 My oh my… Baked apples are such a treat and really make the most comforting and delicious dessert on cold rainy nights in. We've tried so many different versions, but this one always comes out on top. The ginger gives it an amazing kick and the syrup is so rich and lovely you'll want to scoop every bit out of the pan! You can add a splash of brandy or whisky into the cream if you like for something a little extra special and top with a few more chopped pecans. Happy baking!
Ingredients
4 apples (golden delicious or granny smith work well)
50g butter
50g brown sugar
1/2 cup mixed dried fruit (try chopped apricots, raisins and cherries)
1/2 cup crystallised ginger, chopped
1/2 cup chopped pecans
Zest of 1 orange
2 tablespoons runny honey
284ml double cream
1 tablespoon icing sugar
1 pinch mixed spice
1 splash brandy or whisky, optional
Method
Preheat the oven to 180°C/350°F/gas 4. Carefully remove the core from the apples with a sharp knife or apple corer. Be careful not to split them in half. Place them on a baking tray.
Heat the butter and sugar in a small saucepan with the dried fruit, stem ginger and orange zest. Stir until the butter has melted and all the grains of sugar have disappeared. Pour the caramel mixture into the middle of the apples, drizzling any extra mixture over the top along with the honey. Bake the apples in the preheated oven for 20 minutes.
Meanwhile, whip the double cream with the icing sugar and mixed spice until you have soft peaks. Fold in the brandy or whisky for a bit of a kick if you like.
Serve each apple with a big spoonful of whipped cream and any leftover caramel juices from the tray.
—————————————————–
If you'd like to see more recipes from Starts at 60, click here. And if you have a recipe you'd like to share with the Starts at 60 community – we'd love to share it! Submit them to us by completing the form below.
Submit your article here
Comments