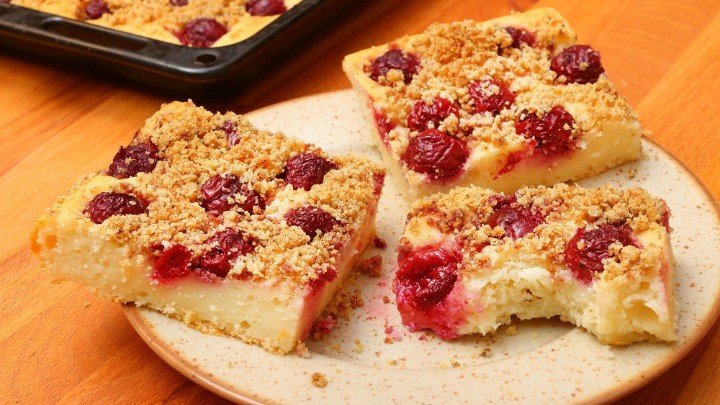 Cherry season may be over, but that doesn't mean you have to say goodbye to these juicy little beauties! You can pick up frozen cherries at supermarkets, which work perfectly in this recipe. There are three components to the recipe, but they're all super easy and quick to whip up. The addition of applesauce makes the tastiest base and is the perfect match for the sweet cherries on top. Finish with the delicious crumble and serve with a hearty helping of custard.
Ingredients
Filling
2 cups frozen cherries, thawed
1 tsp caster sugar
1 tsp cornflour
½ tsp almond extract
Base
1 cup plain flour
¼ tsp baking powder
1/8 tsp salt
1 tbsp butter or margarine, melted and cooled
¼ c unsweetened applesauce
½ c brown sugar
¼ tsp almond extract
Crumble
1/2 cup sifted plain flour
1/2 cup almond meal
1/2 cupcaster sugar
90g chilled, chopped butter
Method
1. Preheat the oven to 180ºC, and lightly coat a 20cm square baking tray with non-stick cooking oil spray. To prepare the filling, combine the cherries, sugar, cornstarch, and almond extract in a large bowl, stirring well to evenly coat the cherries with the other ingredients. Set aside.
2. To prepare the base, mix together the flour, baking powder, and salt in a medium bowl. In a separate bowl stir together the butter and applesauce, then add brown sugar and almond extract. Pour in the flour mixture, mixing until just incorporated. Press into the bottom of the prepared tray. Evenly spread the cherry filling on top of the base.
3. To make the crumble, combine flour, almond meal and sugar in a medium bowl. Using fingertips, rub in butter to a coarse crumble consistency. Sprinkle evenly over the top of the cherry filling. Bake for 35 minutes, or until the base is baked through. Set aside to cool to room temperature before slicing into squares. Serve it up with custard, cream, or even ice cream!
—————————————————–
If you'd like to see more recipes from Starts at 60, click here. And if you have a recipe you'd like to share with the Starts at 60 community – we'd love to share it! Submit them to us by completing the form below.
Submit your article here
Comments