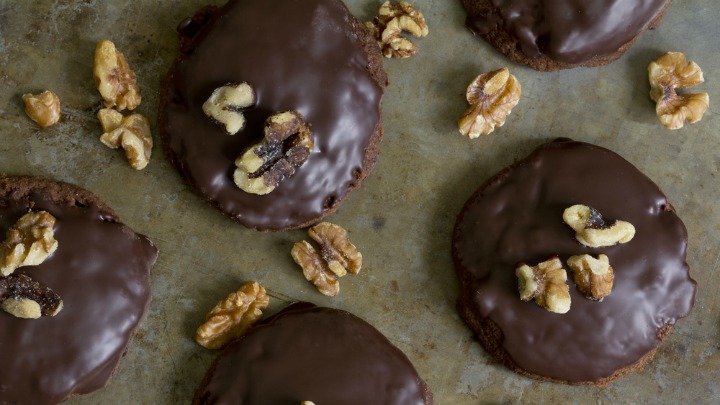 You don't see this recipe popping up many places anymore, which is shame because these biccies are absolutely delicious and so easy to whip together! The butter creates a melt-in-your-mouth effect, while the cornflakes add a delightful crunch with every mouthful. Topped off with a lovely layer of chocolate and a few walnuts, these biscuits really are something special and are a great treat to make when you're looking to impress your guests or just mix it up a little.
Ingredients
250g butter, softened
3/4 cup brown sugar
1/2 teaspoon vanilla essence
1/4 cup cocoa
1 2/3 cups plain flour
2 1/2 cups cornflakes
Walnuts, to decorate
Chocolate icing
1 1/2 cups icing sugar mixture
2 tablespoons cocoa powder
2 tablespoons hot water
Method
1. Preheat oven to 180°C/160°C fan-forced. Grease 2 large baking trays and line with baking paper.
2. Using an electric mixer, beat butter, sugar and vanilla together until light and fluffy. Add cocoa and flour. Beat on low speed until combined. Stir in cornflakes. Roll level tablespoons of mixture into balls. Flatten slightly. Place onto prepared trays, 4cm apart, to allow room for spreading during cooking.
3. Bake for 15 to 18 minutes or until just firm to the touch, swapping trays halfway through cooking. Cool completely on trays.
4. Make Chocolate icing: Sift the icing sugar and cocoa into a bowl. Gradually stir in enough hot water until the mixture is smooth and combined.
5. Spoon icing onto the tops of the biscuits, spreading slightly (see note). Decorate with walnuts. Set aside for 1 hour to set. Serve.
—————————————————–
If you'd like to see more recipes from Starts at 60, click here. And if you have a recipe you'd like to share with the Starts at 60 community – we'd love to share it! Submit them to us by completing the form below.
Submit your article here
Comments