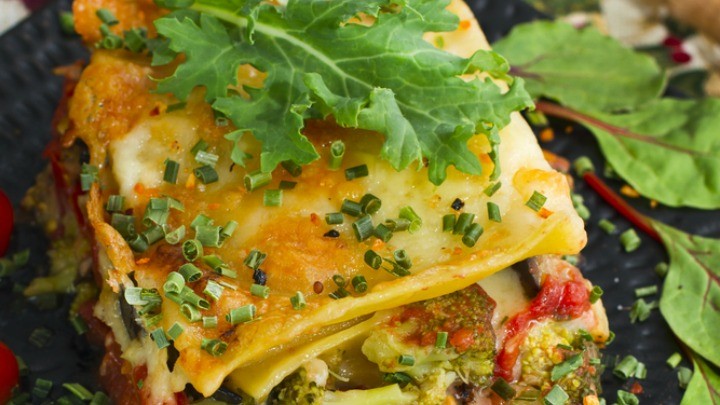 Wanting to move away from the traditional meat heavy lasagne? This dish highlights the flavours of summer by using tomatoes, capsicum, basil, eggplant and zucchini. Pair this with a rich béchamel sauce and you are onto a winning dish for even the most stubborn traditional lasagne fans. The secret to the amazing flavour of this lasagne is that the vegetables are over roasted first to remove most of the water and to intensify their flavours.
Ingredients
2 large eggplants, part-peeled in alternate strips and cut into 2cm dice
160ml extra-virgin olive oil
3 zucchini, cut into 2cm dice
100g grana padano cheese, grated
2 large garlic cloves, peeled and smashed
salt flakes and freshly ground black pepper
250g mozzarella, finely sliced
200g fresh ricotta
200g baby bocconcini, torn
2 large red capsicums, cut into 2cm dice
500g fresh pasta sheets or 2 packets dried instant lasagne (pick a good Italian brand)
1 bunch basil, leaves picked
½ tbsp dried oregano
Sugo
500ml passata
60ml extra-virgin olive oil
2 tsp castor sugar
1 large garlic clove, sliced
2 tsp dried oregano
salt flakes
Bechamel
2 fresh bay leaves
1.5 litres full-cream milk
100g plain flour
100g butter
½ nutmeg, finely grated
100g grana padano cheese, grated
salt flakes
Method
Preheat the oven to 170 C fan-forced.
Add the zucchini and capsicum to a deep baking dish. Place the eggplant in a separate baking dish. Drizzle both dishes with 100ml of the oil making sure the eggplant dish receives slightly more oil. Sprinkle the garlic and oregano over the top and then season to taste with salt and pepper.
Roast in the oven for about 90 minutes making sure to stir the vegetables every 20 minutes. Once all the vegetables are cooked through combine in one large bowl and set aside.
Make the surgo, by heating the oil in a medium sized saucepan before adding the garlic and frying off until fragrant. Place the passata, sugar and oregano into the pan and season before simmering for 15 minutes.
To make the béchamel, add the bay leaves and milk to a saucepan and cook but do not allow it to boil. Remove from the heat and in a separate pan melt the butter. Stir through the flour and cook for about a minute over a medium heat.
Adding the milk while gradually whisking will result in a smooth mixture. Stir continuously and cook until the mixture is just starting to show signs of coming to the boil. Then whisk in the nutmeg and parmesan then cover with baking paper and set aside.
Spoon a thin layer of the hot béchamel sauce so that the base of your baking dish is covered. Then layer that with pasta followed by another layer of béchamel sauce. The add in a layer the ricotta and bocconcini as well as a third of the scamorza and a large scattering of parmesan and basil leaves (gently torn). Next add another layer of paster followed by about half of the sugo and half of the roasted vegetables. Finish the final layer with pasta and top with the remaining béchamel, scarmoza and parmesan cheese. cover with baking paper and foil before baking for 45 minutes.
Remove the foil and cook uncovered for an additional 20 minutes.
Serve hot or cool and portion it out for later serving.
If you have a recipe you'd like to share with the Starts at 60 community – we'd love to share it! Submit them to us by completing the form below. 
Submit your article here
Comments