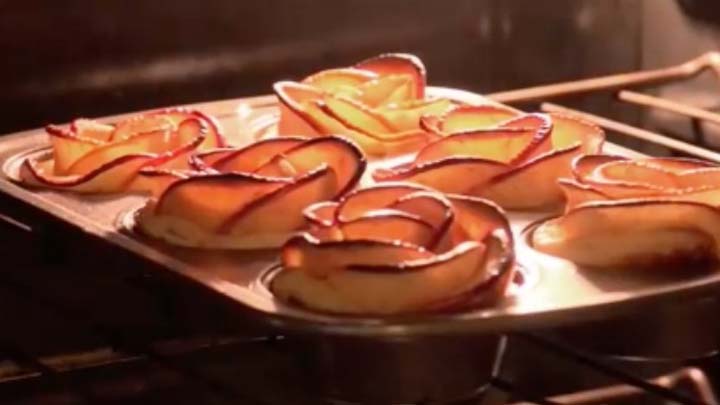 It was a seemingly innocent video of a clever idea, but as soon as website TipHero posted the Apple Rose recipe, it went crazy! It's now amassed over 200 million views and counting, as it works its way around the internet in many carnations.
People are posting their own copycat videos and images of their creations to social media, leading to an apple rose phenomenon! If you haven't caught the apple rose bug yet, you will soon….
Here's how to make one of these beauties.
Ingredients
Makes 6
4 apples, cored and halved (leave the skin on)
Juice from 1/2 lemon
3 tbsp fruit jam of your choice
2 tbsp water (plus more for apple soak)
1 sheet of puff pastry
Cinnamon, to taste
Method
Preheat oven to 190 degrees.
Put apple slices in microwave safe bowl. Fill bowl with water and juice from half a lemon. Use enough water to make sure apple slices are covered by water then microwave for 3 minutes. This will soften the apple slices and make them more pliable for rolling up.
Next grab a sheet of puff pastry. Flour your board and roll out the puff pastry enough to make 6 strips at 5cm wide.
Mix your favourite jam with a couple tablespoons of water. Then spoon out the jam in the centre of the strip of puff pastry.
Next place the apple slices long ways halfway on the strip. Keep adding slices until you reach the end. Then fold the puff pastry over the bottom of the apple slices. Roll up the puff pastry and place in a greased muffin tin.
Bake the apple roses for 35-45 minutes.
Pull out of oven and let cool for 5 minutes.
Watch the video here
—————————————————–
If you'd like to see more recipes from Starts at 60, click here. And if you have a recipe you'd like to share with the Starts at 60 community – we'd love to share it! Submit them to us by completing the form below.
Submit your article here
Comments