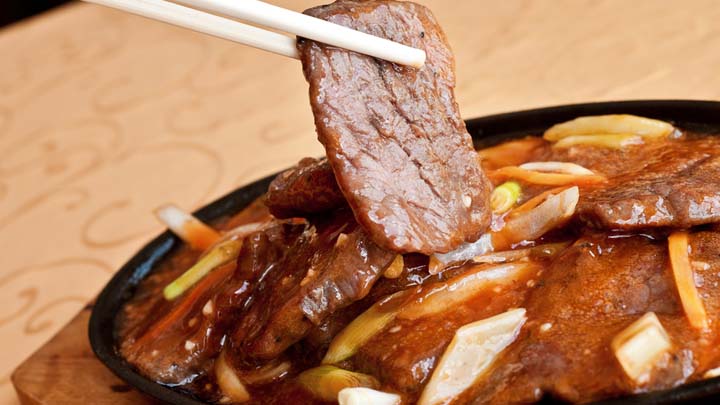 Feeling like a Chinese dish with lots of flavour in a flash? This amazing Mongolian beef will hit the spot!
It's not too sour or sweet, and isn't spicy at all. The best part is it can be cooked in less than 10 minutes – how good is that?
Ingredients
500g flank steak/sizzle steaks
vegetable oil
1/2 teaspoon minced fresh ginger
1 tablespoon minced garlic
1/2 cup low sodium soy sauce
1/2 cup water
2/3 cup dark brown sugar
1/4 cup cornstarch
3 shallots, sliced into 1.5cm pieces
Heat 2 teaspoons vegetable oil in a small saucepan over low-medium heat. Add the ginger and garlic and sauté until golden, then add the soy sauce and water, stirring to combine.
Stir in the brown sugar and increase the heat to medium. Bring the sauce to a boil for 3 minutes. Remove the sauce from the heat and set aside.
Slice the meat against the grain into small pieces, then coat with the cornstarch. Allow the steak to sit 10 for minutes.
Place a large sauté pan or wok over medium-high heat and add 1/2 cup vegetable oil. Once the oil is hot, add the beef to the pan and sauté for 2 minutes until it is seared on all sides but barely cooked in the centre. Remove the steak from the pan and transfer it onto a paper towel-lined plate. Pour any excess oil out of the wok.
Place the sauté pan back over medium heat. Add the prepared sauce to the hot pan, then add the steak and cook at a boil, stirring constantly for 2 minutes. Add the shallots, stirring to combine.
Transfer to a plate and serve.
Comments