Why lapping up affection from a pet is the best therapy
Sponsored Content
Aged Care
9 months ago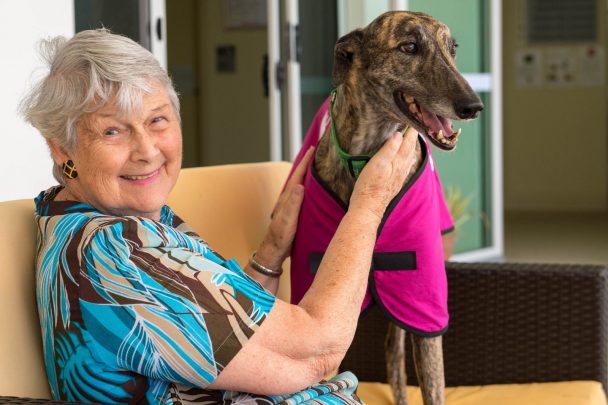 For some, leaving a beloved family pet behind can be one of the most challenging parts of moving into aged care.
So, it was no surprise when the residents of Uniting Pacifica Nambucca in New South Wales decided that they wanted to adopt a community pet.
But no one was expecting just how much the company of a dog would change their lives.
Georgia the greyhound was adopted from Greyhounds as Pets, a not-for-profit initiative coordinated by Greyhound Racing NSW that strives to find calm, loving homes for animals that may have previously been used in dog races.
After a little time settling in, Georgia became a permanent fixture in residents' lives. She now spends her mornings visiting the staff and residents, and the love and attention that the residents receive during her rounds is just as important to Georgia as it is to them.
"She means everything to me," one resident says. "I fell in love with her the first time I laid eyes on her," another chimes in.
Greyhounds are surprisingly low-maintenance pets that require less exercise than one might think. They're also gentle and good-natured, which makes them the perfect companion.
With boundless affection and a generally quiet demeanour, Georgia has proved an ideal friend for residents who benefit from an animal's companionship but have physical or other limitations that mean they can't cater to its every need.
The benefits of pet therapy in aged care are well known – one survey found that 90 per cent of respondents believed access to pets was vitally important for residents' well-being.
While it's generally acknowledged that pets can promote community spirit and encourage friendships, not every aged care home can cater for multiple residents with pets.
This is where pet therapy organisations come in.
Australia has many pet therapy, or animal-assisted therapy, organisations, which exist to bring people in hospices, hospitals, aged care homes or those suffering from various physical or mental disabilities into contact with animals.
Pet therapy is known to help reduce blood pressure and increase physical activity in people of all ages and demographics.
For example, Connie Johnson, who has long been publicly documenting her cancer battle, recently had one of Alpaca Therapy's adorable camelids visit her in her hospice.
People living with dementia in particular often benefit from the presence of an animal so many dementia therapy units offer scheduled visits from cats, dogs or even horses to perk up residents.
If a resident had strong ties with a type or breed of animal in their past, triggering these memories with an animal visit can often help them feel more at ease and even temporarily improve coherency.
Likewise, a recent study also shows that elderly people with depression recover better from incidents such as surgery or injury if they have a pet, because it moderated the effects depression, if not the rate.
"Pets offer an unconditional love that can be very helpful to people with depression," Ian Cook, director of the Depression Research and Clinic Program at UCLA, says.
Whether it's the easy cuddles or a feeling of general companionship without having to try too hard, interaction with a pet seems to help improve mild to moderate depression, he told Web MD.
Pets can also help ease the sense of loss associated with the passing of a loved one or the isolation from a familiar family environment, making pet therapy especially helpful to those who are just settling into an aged care home.
Georgia may not have had the best start to life, but now that she's settled into the new environment of Uniting Pacifica Nambucca, and has been helping residents regain a sense of companionship they may have otherwise thought lost.
"She is special, adorable and a gorgeous girl," one resident says of the greyhound, who spends every night sleeping on one of the home's couches, cosy in a warm dog-jacket.
"I've never heard a bad remark said about her, everyone loves her," another says.
Do you believe in the healing power of pets? Has your pet helped you recover from an injury or illness?

Choose what's best for you During the month of November, anyone who signs up to an Independent Living home with Uniting will receive downsizing consultancy free of charge. With more than 550 services across NSW and the ACT, our team are here to help find support that's right for you. To find out more about Uniting or talk to us about the healthy ageing, lifestyle or care option that's right for you, call us on 1800 864 846.