Why are so many Australians making the move to granny flats?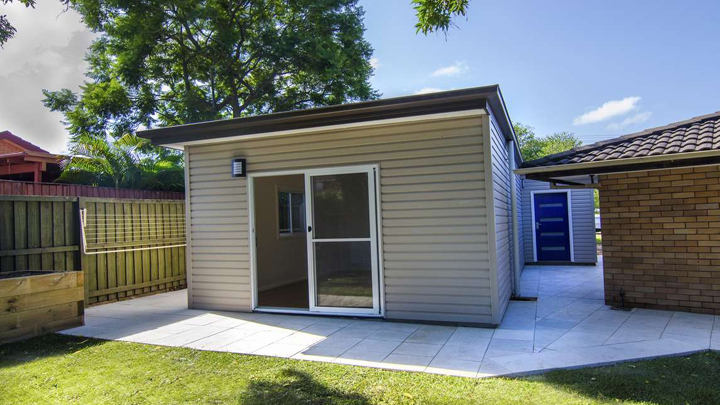 The 'backyard granny flat' is becoming increasingly popular for Australians who are seeking a new lifestyle of leisure in their retirement years.
The question remains: how can the humble granny flat provide a new lifestyle and is it for everyone?
We decided to investigate this grass roots trend.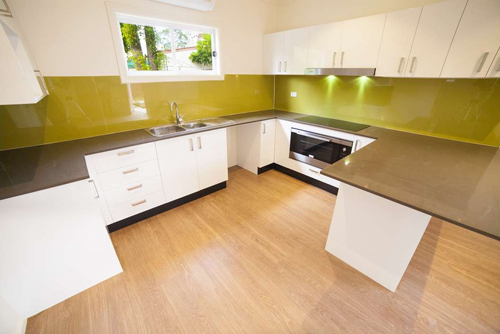 Granny Flat Kitchen with green splashback – built in Sydney.
Ad. Article continues below.
Living smaller is living larger
A granny flat is simply a secondary dwelling built in the backyard. The humble granny flat is undergoing a complete revitalisation, evolving from what was once just a building into a complete lifestyle solution.
It's an unusual idea when you first hear it, but thousands of Australians each year are making the move to build and occupy their backyard granny flat, enjoying the lifestyle benefits that come.
Some are even building multiple granny flats on rental properties and spending their years travelling the world as their stable income back home keeps them on the move.
Ad. Article continues below.
If you're thinking of living in the granny flat yourself.
Moving into a smaller space seems like a step backwards when you're planning your future, finances and retirement – or is it?
Australian families and couples in their 50s and 60s are claiming to have more lifestyle flexibility to travel, additional incomes to invest, along with a more secure plan for their retirements instead of leaving to chance or settling for a nursing home 20 years down the track.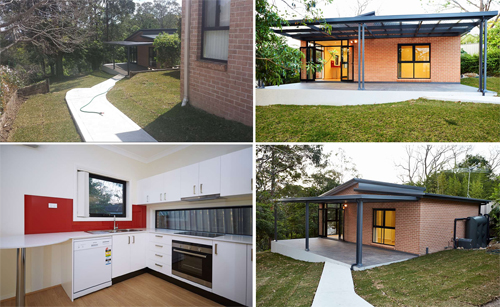 Ad. Article continues below.
A backyard Granny Flat separated from the main house.
What are Australians saying about their choice?
It seems that granny flats represent an independent lifestyle solution for Australians looking to retire with zest and pursue their dreams of travelling yet retaining a steady income.
In a recent study by Granny Flat Finder, in conjunction with SP Jain School of Global Management, who spoke with more than 300 Australians in their 50s-60s in March to find out why they we're considering a granny flat, the most common reasons are as follows:
Ad. Article continues below.
A source of additional income – for pursuing their dreams such as travel and wealth creation.
A family investment in uncertain and trialling economic conditions.
A sound retirement plan, steady income and downsizing.
A flexibly living solution for themselves and their children, depending on who needs housing & when.
Adult children living at home to save for their 1st mortgage & join the home owners club
A long term retirement plan to be an alternative to nursing homes
Intergenerational housing – keeping the family together on the one property yet not the one roof!
It's not surprising that 'income and affordable housing' was among the most important factors for families, with the highest rents on record in cities like Sydney, Melbourne and Brisbane, it's perfect timing to make some additional income.
A safe investment for your future
Aside from the lifestyle considerations, the Australian Government and state governments, led by NSW, are actively encouraging backyard granny flats, citing them as part of the solution to an affordable housing crisis.
Ad. Article continues below.
Facts:
Granny flats can now be rented to 'double your return' on a property.
Granny flats can now be approved in 10 days
Granny flats design has undergone a modern revolution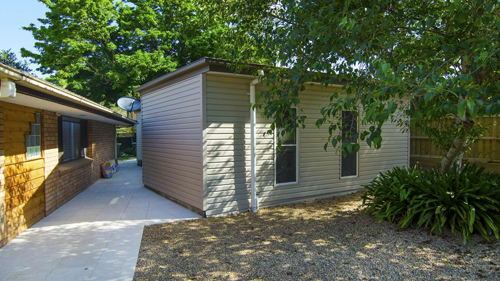 Tucked in the side corridor of this property is a spacious 1 bedroom granny flat.
Ad. Article continues below.
Modern lifestyles reflected in Granny Flat design
Australians are demanding new lifestyle solutions and granny flats are responding with modern designs, polished wood floors, down-lighting throughout, chefs kitchens, spas and decks for entertaining space.
Granny flats are no longer limited to an old fashioned notion of the 'little old ladies house out the back'.
Instead, it seems granny flats are changing to suit the needs of forward-thinking Australians who demand a modern lifestyle solution with flexibility and no sacrifice on comforts.
New designs, styles, choices and lifestyle add-ons, live up to the new promise of providing true independent living and rich lifestyle – as supported by new affordable housing legislations in Australia.
Ad. Article continues below.
If you're planning your future in a time of uncertainty, family and financial considerations however not looking to compromise on your lifestyle – it's perfect timing to explore Australia's new take on an old idea and the next level benchmark of what we once called a 'backyard granny flat'.
Are granny flats the solution to an affordable housing crisis?
Recently, the NSW state government referred to granny flats as part of the solution to what is an affordable housing crisis in major cities and trialling economic circumstances for Australian families doing it tough.
NSW Government defines a granny flat as a secondary dwelling built in the backyard adjacent to the principle dwelling, they can be built on the one lot, or on a subdivided lot and approved by council within 10 days under new laws.
Ad. Article continues below.
Granny flats are experiencing a real come back, and according to Granny Flat Finder, more than 4818 new granny flats were built last year in Sydney and NSW alone, nearly double the previous year and three times more than 2010.
Lifestyle revolution or lifestyle sacrifice?
It's a simple choice to build a granny flat on your investment property – after all you're not living in it yourself.
However, giving up space in your own backyard and downsizing to a granny flat is no doubt a big decision.
Ad. Article continues below.
Despite many both tangible and intangible benefits, granny flats still bring a lot of doubts.
One of the most commonly asked questions is: Will I benefit from scarifying my space?
Obviously a clear yes or no answer doesn't exist and you have to consider a couple of things before moving into a granny flat.
It's very common to unfairly assume that a smaller granny flat means sacrifice and giving up your favourite amenities.
With clever architectural design, a secondary dwelling will have all of the features of the main house and usually even more, it may even be more practical and accessible.
Ad. Article continues below.
Another big consideration is when Australians compare their lifestyles now to 20 years later, seeing granny flats as an alternative to retirement housing and nursing homes.
Many feel that living with their family will affect their activity and independence. However it seems in reality it's quite the opposite – they have more freedom.
A simpler life is a fuller life; it's often said that a smaller home can actually make your life simpler and fuller, by enjoying less clutter, cleaning and maintenance, plus closer family bonds.
Share with us below: Are you considering a granny flat? Or do you currently live in one? What benefits can you see?